Valentine's Day 1998.
In the aftermath of what was then known as the Asian financial crisis, I opened with excitement a not run-of-the-mill Sonya's Secret Garden restaurant in a far-flung, God-forsaken, off-the-beaten-track location in Alfonso, Cavite. It was a time of financial uncertainty.
But I was tenaciously holding on to the pursuit of my ardent dream of living a blissful life in the countryside, away from the busyness of the city life, amid a profusion of wildflowers, shrubberies and fragrant flowering trees.
" In slow food, food is a product of the earth tended with care, prepared with joy and shared. That we eat with the grace of nature, not of the industry. "
I was willing and able to promote health and wellness with the consciousness of ingesting plant-based food as medicine. I believe in food preparation that is based on using only the finest and freshest seasonal ingredients that are produced sustainably and locally; and I have been championing the slow food philosophy.
Its creation is an exercise in prudence, its enjoyment a testament to pleasure, as opposed to industrial food where meals are prepared, packed and delivered for speed to the detriment of our bodies and environment, which is defined by Michael Pollan in his book as "amalgamated, irradiated, genetically prostituted, barcode, adulterated, fecal spam, from the centralized processing conglomerate." In slow food, food is a product of the earth tended with care, prepared with joy and shared. That we eat with the grace of nature, not of the industry.
That brazen decision, after 20-plus years of operation, proved it to be a personal conquest of an effortlessly ran enterprise, where the employees' GNH (gross national happiness) is relatively high.
That is, until 2020, when the lockdown brought about by the dreadful pandemic affected restaurants, hotels, and small businesses like ours. It was a test of human spunk and spirit. As we grappled with this ghastly plague (and instead of wallowing in grief), we chose to reinvent, innovate, recreate, reconstruct and adapt — setting our lifestyle pattern on a reset mode, that is, going back to basics, learning how to respect, reconnect and appreciate the power and magic of nature.
We admire, pause before the cascading Jacaranda blossoms, snip some sprigs of herbs, collect seeds to be sown for the next season's harvest.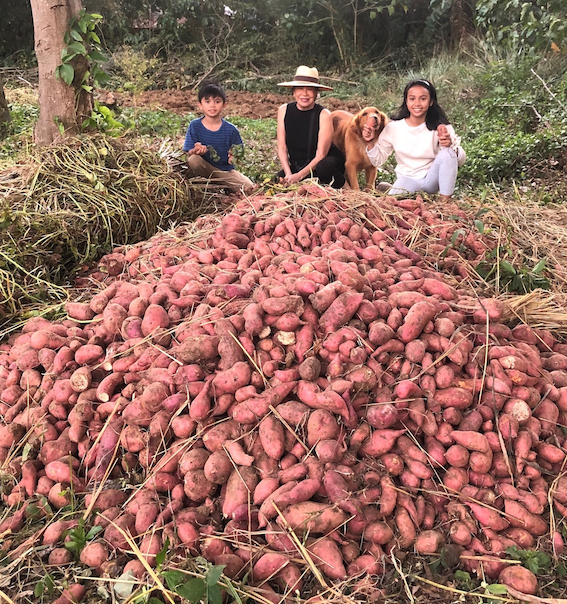 While drinking in the intoxicating scent of ylang-ylang blooms, breathing in the oxygen-rich air, exuded by the flowering and fruiting trees, walking barefoot on pebbled pathways with the gentle warm Vitamin D-filled morning sun on our backs, refreshing ourselves with water drawn from a nearby spring — these were all part of our daily routine for health enhancement and life-enriching activities.
While we have no guests to be served and attended to, our staff made use of their time to serve Mother Earth. Coming to work from their nearby homes on bicycles or on foot, they spent their days furiously propagating trees as part of my advocacy of the reforestation master plan, to help oxygenate Mother Earth.
Trees conserve energy in the summer by cutting air-conditioning costs. Trees help clear the air. Trees produce the oxygen we breathe and reduce air pollution.
Waiters, cooks, chambermaids, seamstresses, laundry women and drivers soon evolved into bakers, farmers and gardeners, pruning, weeding, cultivating and preparing the soil with vermicompost that is cyanide-free, not chemically laden with industrial pesticide and herbicides laced with synthetic growth hormones. Instead, we use organic traditional farming ethics.
Spa therapists pivoted from growing old-fashioned, heirloom, vanishing, vintage, trees, edible flowers and root crops and designing parterre container gardening for urban dwellers. I admire the vigor and passion that the staff has shown in reaching out to the less-fortunate communities affected by the Taal ashfall earlier this year and the pesky pandemic that followed.
There has always been one guiding principle that the establishment has consistently practiced: take care of yourself and your family then take care of your kin and be of use to others, and good things will follow.
Through their efforts, food served on the tables of the restaurant found its way to the communities that were cut off and isolated from the food chain.
On the business side, we organized delivery runs to certain points in Metro Manila to augment food deliveries that were affected by the disruptions in the supply chain.
At our Filipino Bed and Breakfast facility, we have 22 private cottages surrounded by leafy fragrant flowering trees, tucked in various corners of our flower-filled bowery with dreamy nooks to curl up in with their favorite author.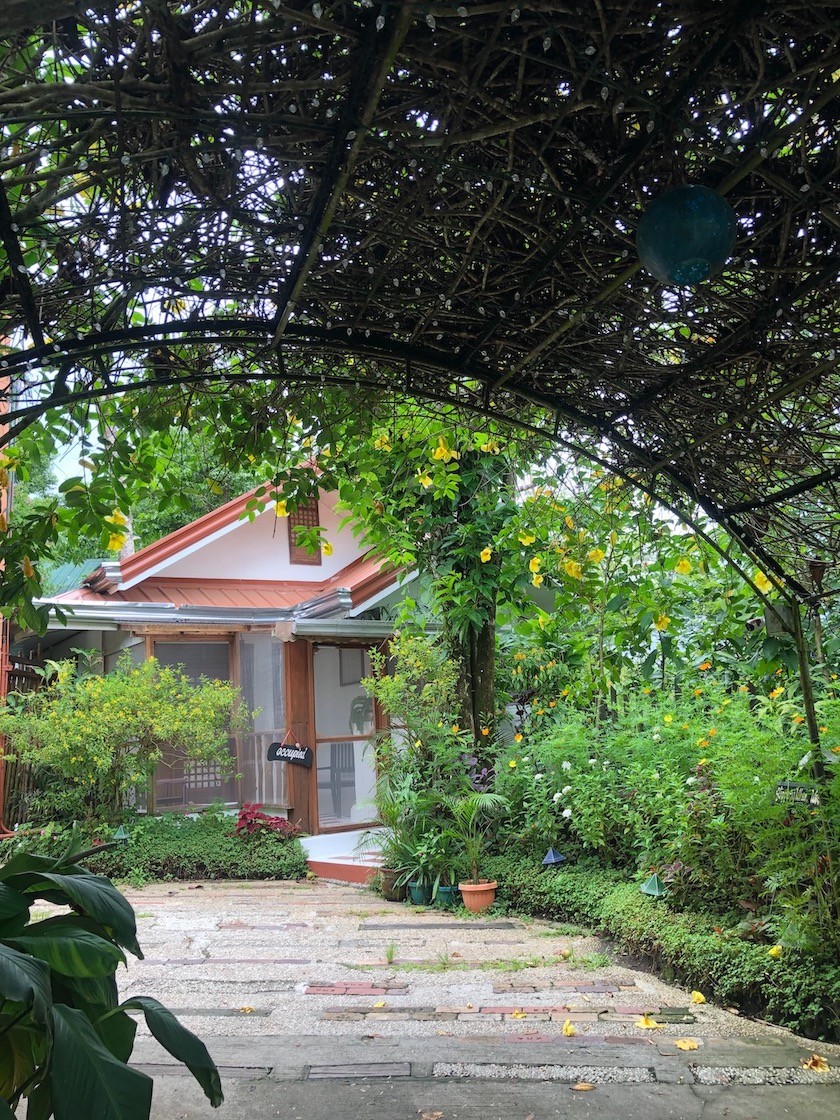 No need to worry about contaminated air.
These quaint sanctuaries have screened windows, with cross ventilation that allows fresh, unpolluted, cool air to pass through. Here, practicing the art of doing nothing is sacred.
Strengthening our immune system is our best defense against any form of infection.
My tips on boosting our immunity:
Breathe in fresh unpolluted oxygen-filled air.

Eat more organic plant-based food of green leafy vegetables a rainbow-colored food in season, plucked from your small spot of the garden.

Catch Vitamin D from the warm morning sun.

Do regular physical activities like leisurely brisk walks.

Drink all day hot tea of

malunggay

and

kamias

leaves to combat colds, coughs and fever. You may add lemongrass bulbs to help stabilize hypertension.

To supplement a lack of trace minerals in your system, a few drops of CMD (concentrated mineral drops) will address this deficiency.

Coco nectar honey taken regularly will similarly help an upset stomach taken with a cup of tarragon tea.
In spite of being in a state of doldrums, we feel profusely grateful to the Supreme Gardener as we gloriously meditate on His generosity while we gather sustenance from the belly of the earth. As we sublimely savor the spoils of the land of plenty, His ultimate precious gift, freely given to us, we fall on our knees, with bowed heads, and we all rise joyfully to the occasion.
Edited by Tanya T. Lara