The disruption brought about by the pandemic forced all of us to change our ways of life. For Grab, it required us to quickly pivot from being a company that relied mainly on transport to boosting our other verticals such as GrabFood and other essential quarantine needs of the community. When the enhanced community quarantine was announced in March, and we were required to shut our transport services down, we had to act fast and plan our next move, while keeping in mind the health and safety of the community, especially our partners.
For most, this sobering period has brought about many emotions of fear and doubt. All of a sudden, everyone was asked to stay home, practice social distancing, and adapt to new ways of living to be able to protect ourselves and our loved ones. We had to shut down our once busy offices and, like most other companies, adapt a work-from-home setup. Personally, as someone who is used to going around to meet partner drivers on a daily basis, this came as a big change to my work habits.
It is also undeniable that this pandemic has come at a high cost for everyone. As a consequence of the suspension of Grab's transport services, our driver-partners were suddenly left without any means of livelihood. In the first few weeks of the lockdown, we introduced a program that would allow our GrabCar drivers to undergo virtual training to temporarily transition as GrabFood and GrabExpress delivery-partners, allowing them to have an alternative source of income for their families while our GrabCar service remained suspended. In partnership with LGUs, we likewise onboarded displaced tricycle drivers and vendors in cities like Manila into our delivery fleet.
" When this health crisis dawned on us, it was just very natural for us to think of solutions for our community and to band together, identify what we can offer, and what the situation needed to achieve a greater good. "
As most of our kababayans remained at home, food delivery remained an essential service. To a lot of us stuck at home, being able to still enjoy food from our favorite restaurants helped to keep our spirits up. However, contrary to the perception that most have about the strength of this service during the lockdown, it, too, was very much impacted. Many of our rider partners were not able to come into areas where demand was high due to checkpoints and other policies that limited movement. As a result, the demand was not served. In addition to this, a lot of our merchant partners were not able to open their stores due to lack of manpower.
This pandemic has also brought about the growth of community-based e-commerce. These are sellers you find on Viber groups, Instagram, and other informal e-commerce channels. The reason why these kinds of seller base are growing is due to the instant payments and logistics infrastructure that apps like Grab provides. This has pushed us to improve and grow our GrabExpress, GrabPabili and GrabPay services. We see these informal selling channels as a mainstay in the new normal and we are excited to support these micro-entrepreneurs in growing their businesses.
When this health crisis dawned on us, it was just very natural for us to think of solutions for our community and to band together, identify what we can offer, and what the situation needed to achieve a greater good. We launched GrabBayanihan, a community-wide initiative that not only inspired but brought forward our willingness to support one another. We used our platform to rally users and communities in raising almost P10 million, which was used to purchase and donate PPEs and meals for the benefit of those serving on the frontlines, and food bags for those who are vulnerable and greatly impacted by the pandemic. To further help our driver-partners tide through their financial needs, we provided them access to several pools of financial aid. In the spirit of Bayanihan, together with our employees, communities, and corporate partners, Grab also raised more than P20 million worth of relief items for the benefit of around 65,000 affected driver-partners.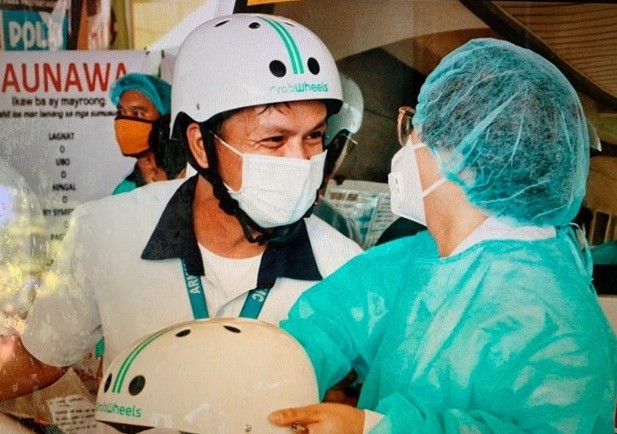 Another key aspect of our GrabBayanihan efforts was enacting safety policies to protect the health and welfare of delivery-partners, such as contactless delivery, regular temperature checks, beefing up the Grab Safety Hotline, and a robust contact tracing system in tandem with government and health officials. We recognize that during this crucial time, our delivery-partners are frontliners themselves. We continue to equip them with the necessary face masks and sanitizers to safely fulfill delivery services for consumers staying at home.
In the beginning of the enhanced community quarantine, when mass transportation was on halt, most of our health workers did not have a way to get to work. We then pooled together a number of brave and willing driver-partners who voluntarily decided to provide round-the-clock transportation service for healthcare workers. To complement these efforts, our GrabWheels (electric scooter service), was also made available free-of-charge for frontline workers. Hundreds of these have been deployed to cities around the country to support our frontliners' transportation needs. Aside from transporting frontliners, we also developed specialized car delivery fleets that were deployed to various local government units to assist them in distributing food and medical supplies within their cities.
As the enhanced community quarantine slowly shifted to general community quarantine and mass transportation was allowed to resume operations, we found ourselves adapting to new health standards and extraordinary safety protocols for our transport service. Our GrabCar service had to shift to 100-percent cashless — and while a good number of our users welcomed this change, there is still a need to continue to educate most users how to shift to cashless mode of payment. We also provided our driver-partners with safety and sanitation kits, including plastic barriers to be installed in their vehicles. These are concrete signs that we are truly in a new normal, and Grab takes pride in going above and beyond for the safety of both our driver-partners and passengers during these unprecedented times.
Over the past months, our characters as Filipinos have been tested, and like with every calamity that we have to face, we face it bravely, together, as one strong community — and Grab is humbled to be part of this brave community.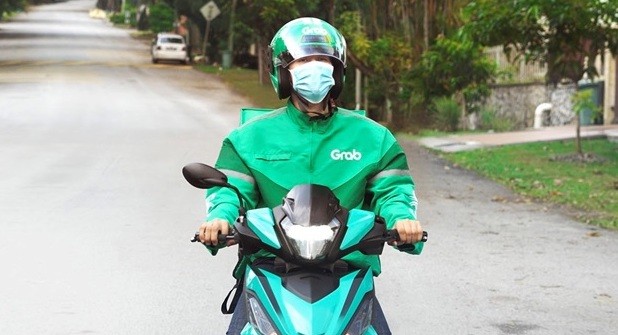 For many, Grab is an app that helps people do day-to-day things, however, in the past months, Grab provided a platform to connect millions to millions, to be part of each and every moment, and to put forward the good that we can all do — together. We now look forward to working more with our users, with different members of the community, government agencies, and MSMEs in leveraging our platform to help reboot the economy. As we navigate this new normal with the rest of society, we will continue to draw on our technology to help our communities more, and solve for the many important issues around us, and to send a clear and brave message to everyone — that together we can rise from this painful and difficult moment, and move forward for our loved ones and our communities.
Portrait photo by Mau Aguasin courtesy of PeopleAsia magazine
Edited by Rica Delfinado