Providing Filipinos with the latest information about the COVID-19 pandemic is not an easy task. But for our team of five members, who are behind the Telegram channel PH Coronavirus Updates, it is a responsibility that we have wholeheartedly accepted in order to serve the people in these trying times.
Each week, our group convenes through an online group chat to decide what and how to communicate health information to the channel's followers. The decisions we make are crucial as these reach thousands of Filipinos nationwide.
From the latest case updates to significant policies, the channel connects Filipinos with valuable health information that they need to help them respond to the pandemic.
Our team, however, recounts that the vision did not start with this grand aim. It started as a venue for our family and friends who were getting a lot of inaccurate information from social media.
We noticed that little was known about the virus, so we were concerned that misinformation would be rampant. We also noted how some social media platforms failed to fact check many of the unverified information. It was, therefore, a responsibility that we put for ourselves, especially as more people joined the channel and gave us their trust.
The Telegram channel, when it was launched in January, only had a handful of followers mainly composed of relatives and friends. By July, the group's membership had boomed to over 130,000.
Our team attributes the growth to word of mouth as more Filipinos clamor for credible information about the pandemic. In March, we saw that the channel became a hot topic on Twitter, with a number of prominent figures promoting our group.
For us, the increase in the number of followers was an indicator of trust from the general public. It was essential that we continue with our role as providers of information.
In selecting the platform, various considerations have to be taken into account. We settled on Telegram, which was effectively used by the pro-democracy movement in Hong Kong to securely communicate during protests.
Telegram was a convenient platform for information dissemination because it highlights the importance of sharing of content as fast as possible.
Too much information is a legitimate concern. We noticed that language has to be straightforward so as not to cause unnecessary stress. Some updates are also posted without any alerts to minimize anxiety to followers.
Generally, the content has to be very upfront, although one of our members may once in a while explain details for those that need context and additional information.
We also write posts that have a maximum of three sentences. We do not want the channel to be a wall of texts.
Individually, the members of our group are interested in local and geopolitics and would prefer to maintain non-affiliation with any political color. Recognizing that some content may be interpreted as political, we try to remain neutral in our posts as much as possible.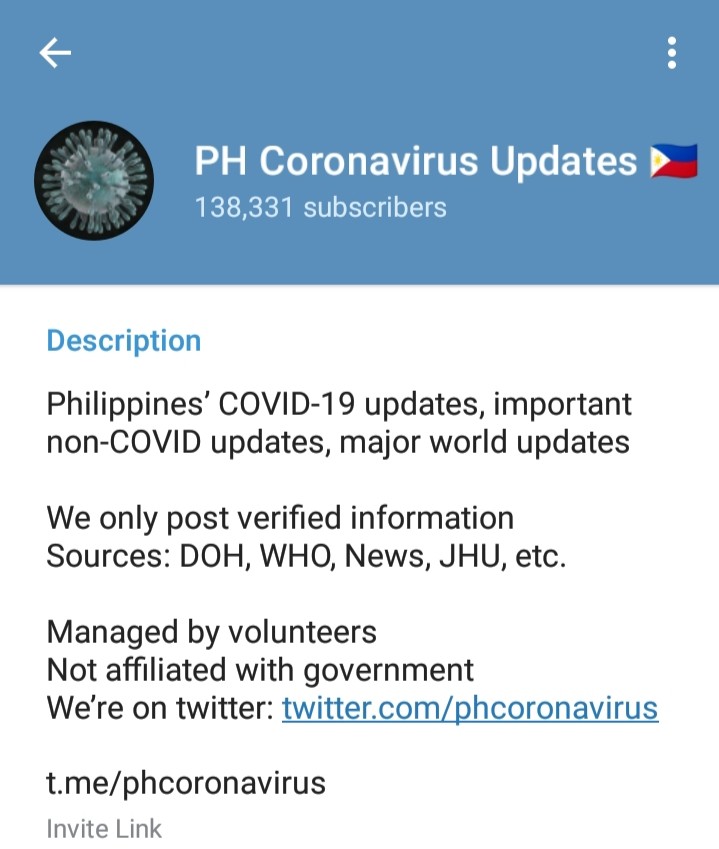 In some cases, we needed to meet and decide on how to word our posts to avoid giving an impression of political bias or being drawn to a politician. One of our founders reminded us that the country's political environment is already too polarized, and we would rather not add fuel to the fire anymore.
Aside from information related to COVID-19, we also post other information that we deem relevant for Filipinos, such as those concerning natural disasters and other developments.
With thousands of members anticipating credible, up-to-date information, we recognize that maintaining the channel is not an easy task. For instance, during the first few months of the pandemic, the lack of a centralized government information dissemination system made it difficult to vet what is being reported. We meet online and decide on what information matters to the audience. We use information from the Department of Health, the IATF, and from media sources.
" Misinformation also remains a major concern, especially on social media. To ensure that the information we share is factual, we had to triangulate the information that we got before a member could post it. "
We were cautious in sharing some information because several government officials gave conflicting accounts. We wanted to avoid sharing anything that could be confusing to our audience.
The team does not want to add more confusion to their audience. Even if there is no codified rulebook that provides them information on what gets to be published, they know that their posts are checked for veracity by the members themselves.
Misinformation also remains a major concern, especially on social media. To ensure that the information we share is factual, we had to triangulate the information that we got before a member could post it. As social scientists, we had to vet the data that we share to ensure consistency and transparency. We only share information that we have checked from the national government and our media sources. At the end of the day, the gut feel of a well-informed social scientist becomes a push factor to post information on the channel.
We ask: Do the news agencies post the topic? Do these posts make sense to us? We also fact check the news.
On selecting the content, we also follow public sentiments on social media platforms such as Twitter in order to see how our followers react to the topic and to gauge their interest level. The channel has also become a platform to promote COVID-related campaigns and causes by different organizations.
Recently, we also added polls on the channel to help us gauge the perspectives of the members. Adding opinion polls will give us a feel of what our followers are thinking about the on-goings in the country.
Six months into the initiative, we, the PH Coronavirus Updates, through our Telegram channel, remain committed to sharing relevant information to Filipinos. For us, arming the general public with factual information and quality content would enable the Philippines to survive this pandemic. The team learned that the public is looking for trustworthy and dependable information so they need to post the truth.
We hope that more people would be inspired to take action and help in addressing the current crisis. Indeed, now — more than ever — is the right time to be of service to our countrymen.
Edited by Janvic Mateo