What is a pandemic? It's something widespread, universal and global. A pandemic virus is contagious and deadly. It's an enemy that we don't see. When I heard about coronavirus disease 2019 (COVID-19), I was in the midst of preparing a stand-up show in the Music Museum, titled Titas of Manila. It was a show that I prepared and conceptualized for three years. It was supposed to run last March 20. But due to the implementation of the enhanced community quarantine (ECQ) last March 16, the show was canceled.
I was working almost every day since October 2019 for the show. I had everything planned. I had my schedule set. Then came the virus…
I have to admit there was much fear at the start of the lockdown. I was worried about my work. How do I survive? What about my plans? What about my son? What will happen to my son's schooling and therapy? ECQ. Lockdown. Stay Home. My new journey with myself, my family and my son started. It's an experience I will treasure all my life.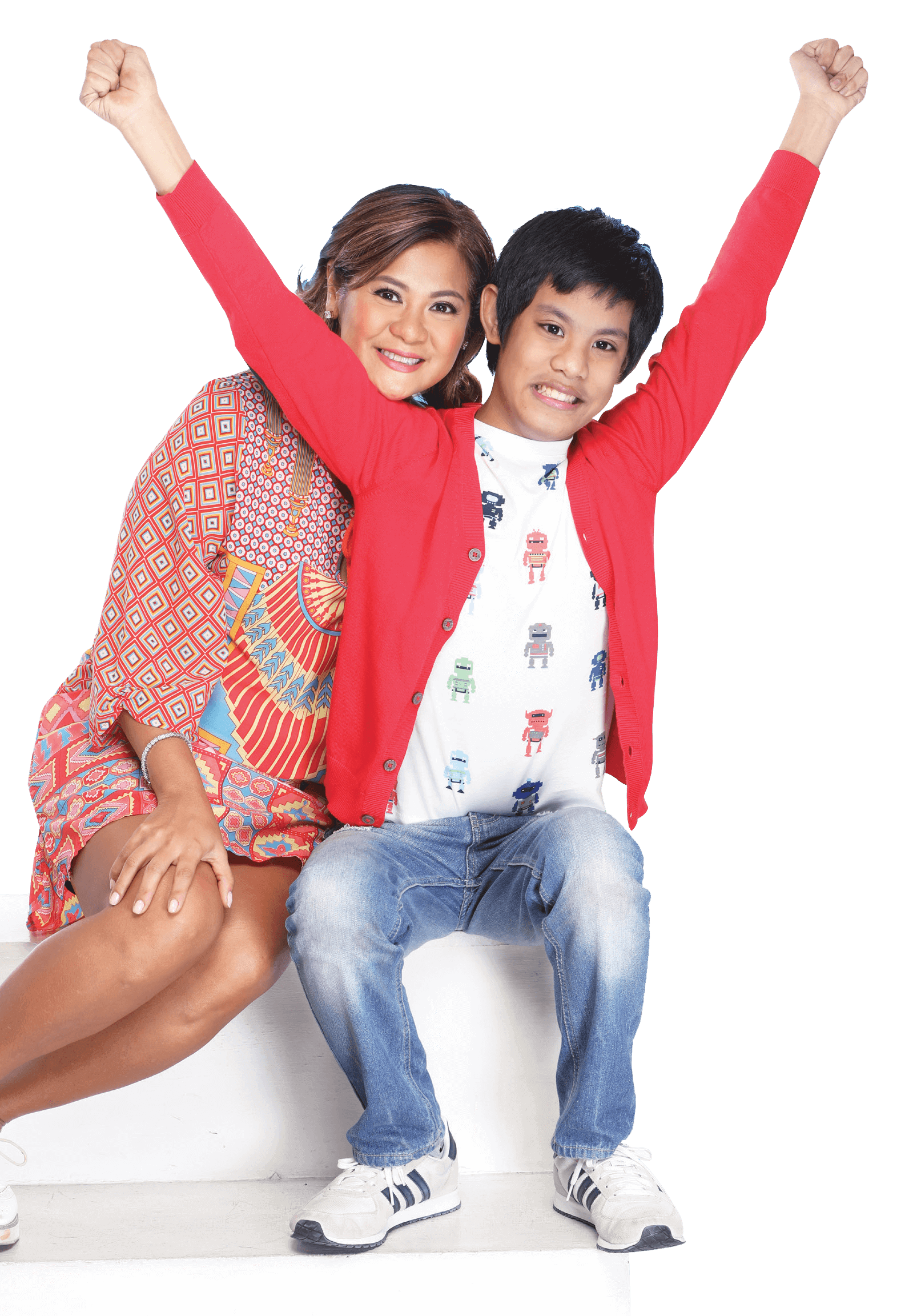 I have a son diagnosed with attention deficit hyperactivity disorder (ADHD) and autism. He usually lives by a routine. This lockdown has interrupted his routine. I was so scared that the lack of routine would trigger meltdowns.
I have an 84-year-old mother, who loves to go out. I was also worried that this stay home might shorten her patience. We all had our own routines.
But due to the ECQ, we all did new routines, together as a family.
" Going back to basics is freedom. "
During the first week of the lockdown, all I did was watch news with my 16-year-old son, Quentin. He started memorizing the names of the newscasters. I would also join Quentin watching his YouTube stuff, which I greatly appreciated because I was able to scan everything he was watching.
We started exchanging inside jokes about the things we watched together. I tried to influence Quentin to watch and read storybooks on a YouTube channel. I would ask him questions about the story afterwards. It was a routine that we eventually enjoyed together.
At first, it was a struggle to convince him to read but later on, he was able to appreciate it. My son was practicing comprehension and focus. I was practicing patience (laughs).
We, as parents, have to admit that sometimes we tend to lose patience with our kids. But that's the fun of it. We push each other to our limits. I have learned to just simply go with the flow. I don't get mad. I keep quiet. I also don't give in. It's really a test of balance.
I would also wake up with Quentin so excited about all the activities I have planned for the day, like gardening with lola, doing exercise, cooking, and vlogging.
Our online audience would enjoy watching our vlogs. The vlogging really bonded the two of us. I noticed my son is a natural comedian and performer. He would automatically perk up when I started recording. This vlogging thing really inspired me to do better with my son.
Likewise, the comments I received from netizens in my vlog was so moving. That's when I realized that we have accountability for people who are watching our videos.
As part of our routine, the whole family would hear Mass every day at 12 noon. We would also eat a lot! No matter how simple the meal was — tinapa with tomatoes and patis with pritong saging for dessert. We would consider it a "feast." While the entire Metro Manila was on lockdown, the mouth of my family was not. Eating together with my family has become a bonding activity for us. At the same time, we also followed the government advice to flatten the curve… we have flattened the curves (of our body)! We started having "humps."
We would also pray, talk, talk, and talk some more. The more we talked, the more I realized that my son is not a child anymore. He is a 16-year-old with a mental age of an eight-year-old, as his doctor said. Quentin has matured. He can now really crack jokes. I have a teenage son with a neurodevelopmental disorder who loves to tease me, crack jokes and argue with me. He is starting to ask questions about life. I saw his needs and what can still be developed in him. I saw things I was missing out before.
Quentin would constantly ask my schedule. He wants to know if I would spend the next day again with him. I would start a conversation with him that involves critical thinking and decision-making. I would ask him the same question every day for continuity and to check if he remembers and comprehends. We did activities that looked like we were just playing but as a matter of fact, it was modified studying.
For Quintin's schooling this year, it will be blended learning for him. He will do both homeschooling and face-to-face interaction if that is what the school is offering. But homeschooling is definite, with a teacher coming over to the house for two hours to teach Quentin. For other tasks, I shall take over.
I started telling Quentin everything. I tell him about my dream for him. We had so much time. I had so much time to explain and wait until he understood. He understood more if I course it through prayer.
It wasn't always a good day for us. Quentin had tantrums during the first month of lockdown. I've learned to deal with it. I wasn't mad, I was more concerned about him.
" This pandemic has greatly reminded me of my purpose — to be a mother, father and friend to my son. "
Looking at the brighter side of things, my son reminded me of what was important — God and family. Quentin just embraced the lockdown situation with joy in his heart and he was happy that I was home most of the time. We watched TV, danced, played and got bored together.
I saw the dynamics of our household during this pandemic lockdown. I saw the needs, routines, weaknesses and strengths of every individual living in the house. Thus, I started to appreciate the work of each individual, especially how they interacted and treated Quentin. It was my mother who would spoil my son most of the time, in a good way. I had to remind her that Quentin must be treated normally and consistently with our rules.
Since the lockdown, I've started sleeping with Quentin again. I will always treasure his evening prayers that go on and on and on. He thanked God for everything every day. He even thanked God for the times we would just watch our CCTV camera recordings and laughed at them.
Love conquers fear. I realized that the things that were so important to me before the lockdown weren't very important after all. Going back to basics is freedom. As I've said before, Quentin is my ticket to heaven. His love and positivity infect and affect everyone around him.
And we know that all things work together for good to them that love God, to them who are called according to his purpose. — Romans 8:28
This pandemic has greatly reminded me of my purpose — to be a mother, father and friend to my son.
In the midst of this pandemic, I was freed from worries and fear. I just surrendered everything to God. It has taught me to be sensitive in loving and caring, not only for my family but for others as well, in my own simple way. My new normal is simpler. My new normal is basic. My new normal is only what is essential.
Edited by Charmie Joy Pagulong