The music never stops. Not even in a pandemic.
I had recently mentioned to someone that I had never been more productive in writing new songs than in the last 100 days. Just last week, I counted eight new songs done in various subjects or themes. And then recently, the ninth song was born. I am so wired up and excited to share the newest creations. Two are already on Spotify, released on May 3 and May 31, respectively, and both performed by The Ryan Cayabyab Singers. There should be more in the works.
Even so, what was most significant to me during this period was my involvement in the very successful fundraising project called Bayanihan Musikahan. This is my story of how I spent my time during this horrific worldwide pandemic.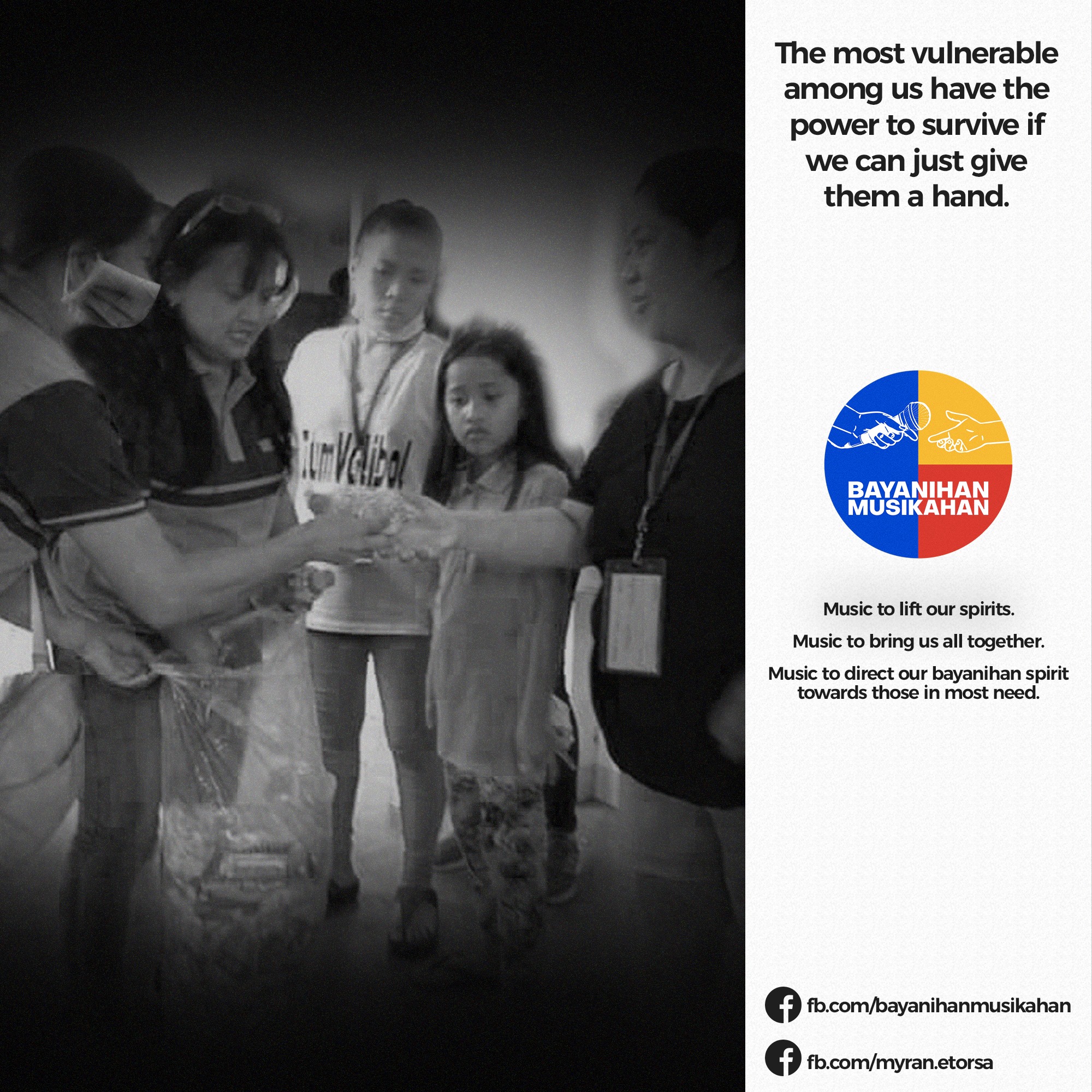 On March 14, I received a private message from Trina Belamide, a close colleague in the songwriting industry. She had been messaging me for a couple of days to attend a meeting about an initiative that needed immediate attention. She had been exchanging ideas in a thread with friends active in civic action projects: Marian Roces and Dan Songco. The concern was, how do we help those most affected by the lockdown? Many of them are daily wage earners who cannot work while in quarantine and who need to feed their families. We saw the dire situation in the news, and read and participated in online discussions.
I finally joined the discussion and an online fundraising concert was the decision we arrived at. We would be counting on donations from companies and individuals to help fund our project to supply food packs to the most affected and vulnerable sector in Metro Manila.
" This was probably the most exciting thing that I have ever witnessed in recent years — people performing, donating, doing civic action in solidarity with our Filipino brothers who needed aid after being displaced by COVID-19. "
Marian and Dan knew exactly who we had to partner with. These were the venerable Philippine Business for Social Progress (PBSP), an organization that has existed for half a century and established its expertise in receiving, channeling and supervising donated funds, plus they have the technology and machinery to do this; the Samahan ng Nagkakaisang Pamilya ng Pantawid, an organization of more than 70,000 families who would be responsible for distributing food packs to the affected families; Caritas Manila, the leading social arm of the Archdiocese of Manila; and Likhaan, an organization focused on primary healthcare for women and women's rights. PBSP's Rey Laguda and former social welfare secretary Dinky Soliman, later on, joined us in the lead team of Bayanihan Musikahan.
Invites were then sent to the artists and before we knew it, the number of confirmed performers rose from eight within the hour of the invitation to 80 within the next 48 hours. They would be doing online concerts individually, direct from their homes. The launch was pegged for March 23, a Monday.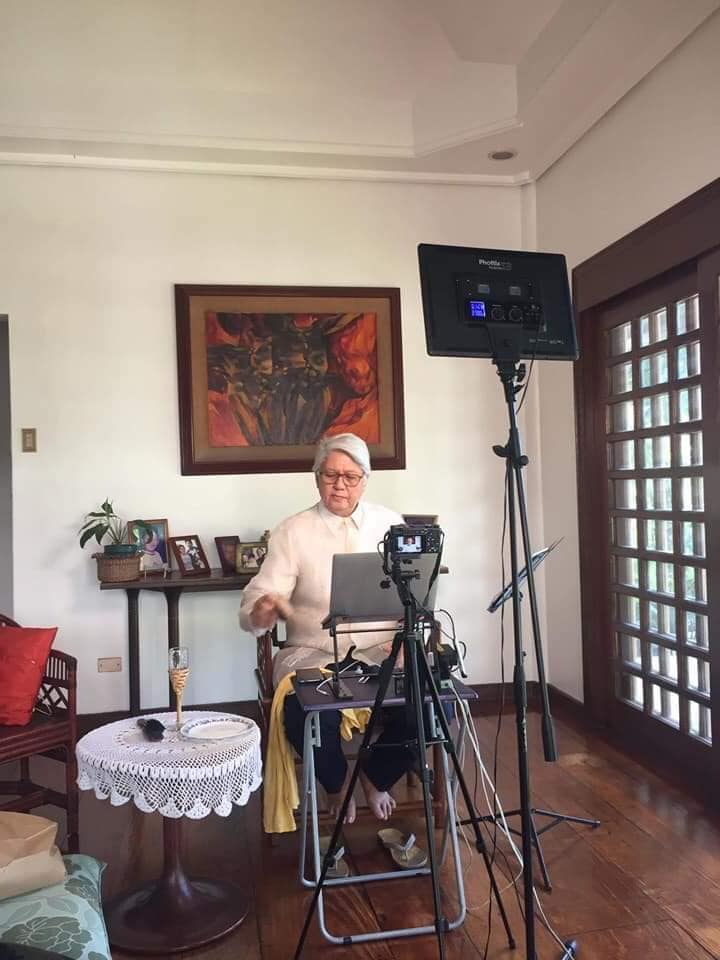 On Wednesday, March 18, I did my very first Facebook Live performance. I wanted to test the water, and eventually announced the forthcoming launch of Bayanihan Musikahan. It was nerve-wracking, to say the least, for someone who is not tech-savvy. Luckily, from the beginning of the Bayanihan Musikahan project, Jay Adlao Block of Outbound Asia was on board to oversee the technical aspects of doing online "broadcasting." She was in the original team of five volunteers — a movement that grew and grew, and would count to more than 500 volunteers by the time we peaked in our operations.
The artists were all gung ho and wanted to start the ball rolling immediately. So, that Thursday, March 19, I announced the launch of the online concerts. I did my initial show, singing my own compositions and talking about what Bayanihan Musikahan wished to accomplish. The next night, Friday the 20th, the popular band Sponge Cola with Yael Yuzon and Karylle fired the opening salvo, followed by Ebe Dancel performing his original compositions. The night was capped with Top Suzara's concert of his songs.
On that day, we also had volunteers to help us manage the traffic of artists from all genres — from pop, classical, rock, jazz, ethnic, Vispop to Minpop — performing mostly original Filipino-made music! Imagine the excitement when we learned that Ebe's concert commanded 300,000 views! But best of all, by the time that weekend was over, we already had P2 million in donations.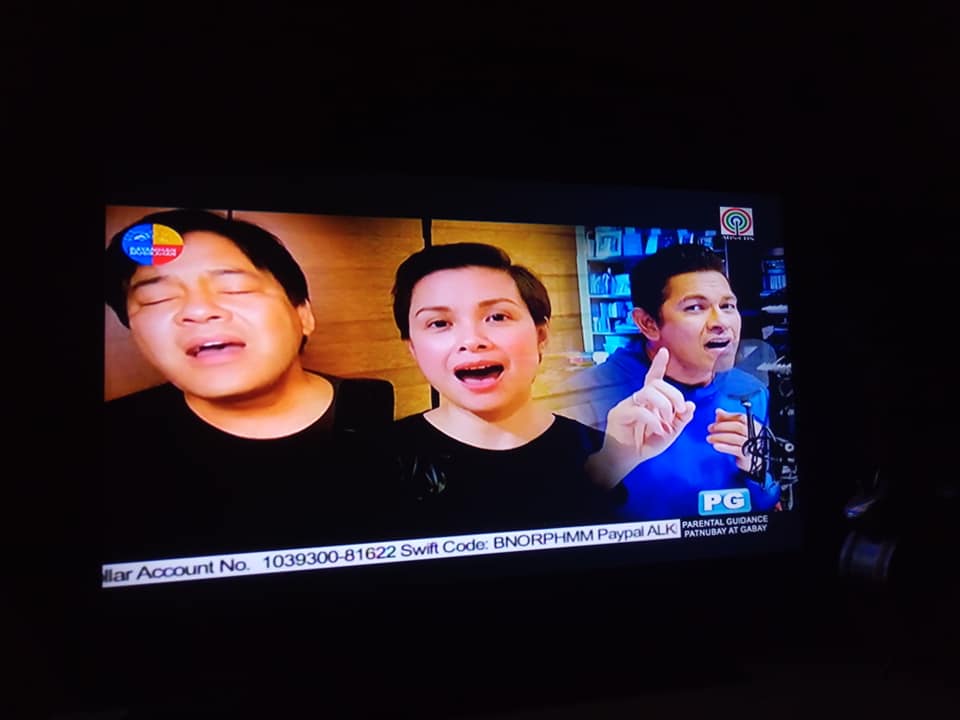 Philippines' top performing artists gave their time and talent: Lea Salonga, Gary Valenciano, Martin Nievera, Regine and Ogie Alcasid, Chito Miranda, Jett Pangan, and Noel Cabangon. Even top classical artists Rachele Gerodias, Dio Saraza, Albert Tiu, and Victor Asuncion, from wherever they were around the world, performed to the delight of the quarantined audience!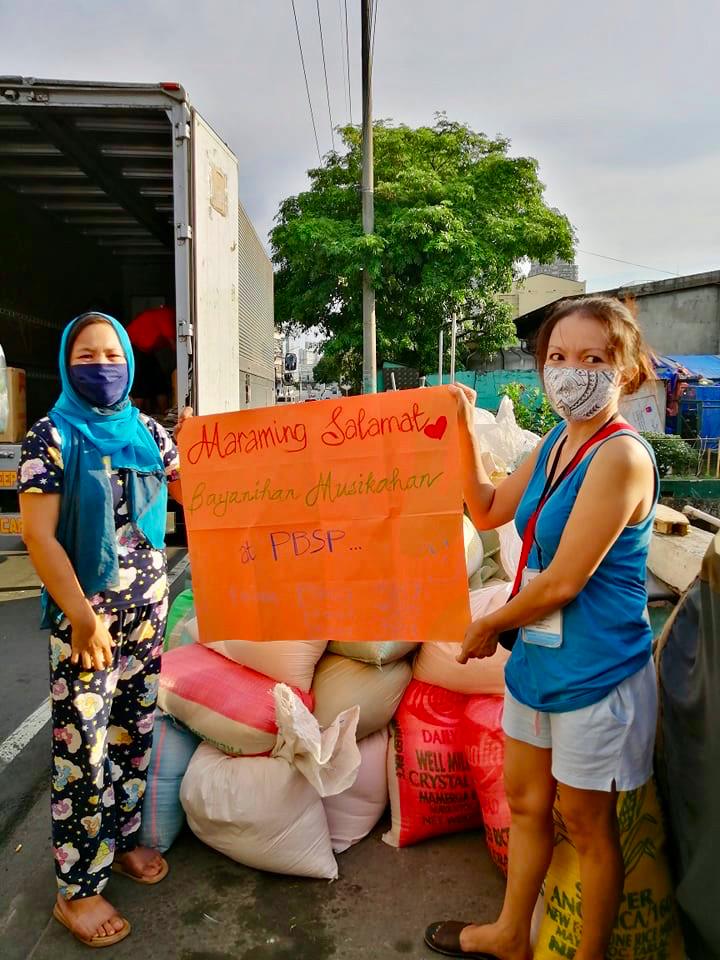 Bayanihan Musikahan presented more than 170 concerts, involving close to 200 artists-volunteers; raised over P131 million in cash and in-kind; fed more than 100,000 urban poor families; engaged business with farmers and fishermen to supply fresh vegetables and fish; provided PPEs, meals and wages for quarantine centers in Quezon City and Manila; and lifted the spirits of everyone locked in their homes during the quarantine. And even as the concerts have finally wrapped up, here is Bayanihan Musikahan embarking on a livelihood initiative for the urban poor communities. The project named Mask4AllPH will tap these communities to produce masks using donated fabric waste. The project aims to sell the masks to the public, as well as provide the poor with free masks.
This was probably the most exciting thing that I have ever witnessed in recent years — people performing, donating, doing civic action in solidarity with our Filipino brothers who needed aid after being displaced by COVID-19. It was all done with the purest of intentions. Dalisay was our operative word. Bayanihan Musikahan is a Filipino cultural marker — the music never stops when the taumbayan comes together to the rescue.
Additional photos courtesy of Bayanihan Musikahan's Facebook page.
Edited by Nathalie Tomada