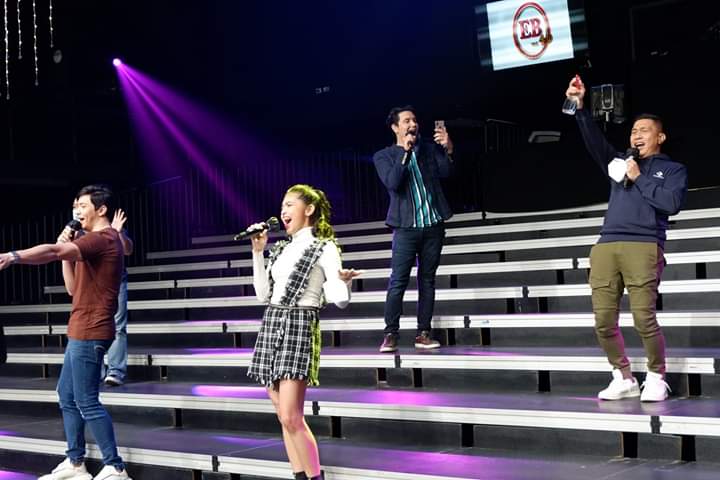 When the coronavirus disease 2019 (COVID-19) hit the country, the noontime show Eat Bulaga was one of the first to act on the threat it posed to people in large gatherings.
Then finally, the day came. We were off the air. Metro Manila had been put on lockdown. Reruns were shown, and the dabarkads stayed connected from their own homes only through Facebook Live.
Ryan
It was as early as the first week of February when we first experienced changes to the show due to a virus nobody seemed to understand. I remember having to bring several packs of N95 masks from my home in Muntinlupa all the way to our assigned remote barangay location in Pangasinan.
Our social media feeds had been abuzz all night by the first reports of COVID-19 cases in Manila. None of us had the slightest clue of what the nature of the virus was. Our questions back then: Was it highly contagious? Airborne? How do you get it? All we knew was that we had to wear masks and sanitize our hands.
When I got to the set an hour before noon, there was the usual crowd of supporters eagerly waiting for our segment and vying for a chance to win the day's prizes. But there was something very different. They were farther away than usual and cordoned several meters away. We went through that day having to apologize and explain to residents of the barangay why we couldn't be our usual rowdy selves throwing our bodies right into the crowd and revelling with them. They completely understood. They, too, knew of the threat.
My co-host and I had to wear masks, which we took off only when we were on air and hurriedly put back on as soon as we weren't. We waved from a distance and never got the chance to have selfies taken with the crowds. This wasn't how we worked. It definitely wasn't the usual script. Weeks went by, and little by little, we were modifying our set-ups in the barangay. On TV, you wouldn't notice. On set though, it was already quite strange. The connection to the audience was slowly getting more and more remote.
Pia
Eat Bulaga decided for the first time in its 40-year history not to allow a live studio audience after careful thought and much planning.
It was a bold move considering our dabarkads in the studio — or "Team APT" as we fondly call them — are a big part of the show. They are the cheering section, the contestants, a big part of the energy. I thought that was it.
Ryan
That was the first time a viewer truly saw a major shift — when Eat Bulaga executed its currently most popular segment, Bawal Judgemental, without a live audience. The punchlines and drama still came in their usual form and rhythm, but there was nobody else to share the feelings with. Nobody was seen slapping the shoulders of their seatmates. No one was trying to cover their faces because they had just been shown on live television wiping tears, only empty seats.
Pia
Meanwhile, COVID-19 cases kept on rising. Quarantine measures were getting stricter and more restricting. Before we knew it, the whole country was forced to go into lockdown. Nobody could work or go to school. Malls closed down, restaurants closed down. Nobody could go out!
Eat Bulaga was forced to show replays of its best episodes. My co-hosts and I would occasionally go on Eat Bulaga's Facebook page to livestream from the safety of our homes before the show and just to check on how our dabarkads were doing.
We interviewed frontliners, touched base with those whose businesses were affected, while our haircuts and white hair grew out.
Ryan
Unknown to the viewing public though, way before the lockdown was announced, the staff had been spending countless hours reimagining not only the segments but also the working conditions that we were going to put ourselves through. As the landscape changed by the day, so did the plans.
Long hours in Zoom meetings netted early-morning exchanges of text messages and e-mails between staff and hosts. Instructions on the day's topics and requirements to be covered on the Facebook Live airing became part of the job. Home videos were shot to be incorporated into the TV show.
Our real daily experiences were now being shared by our dabarkads who were in quarantine like us.
Pia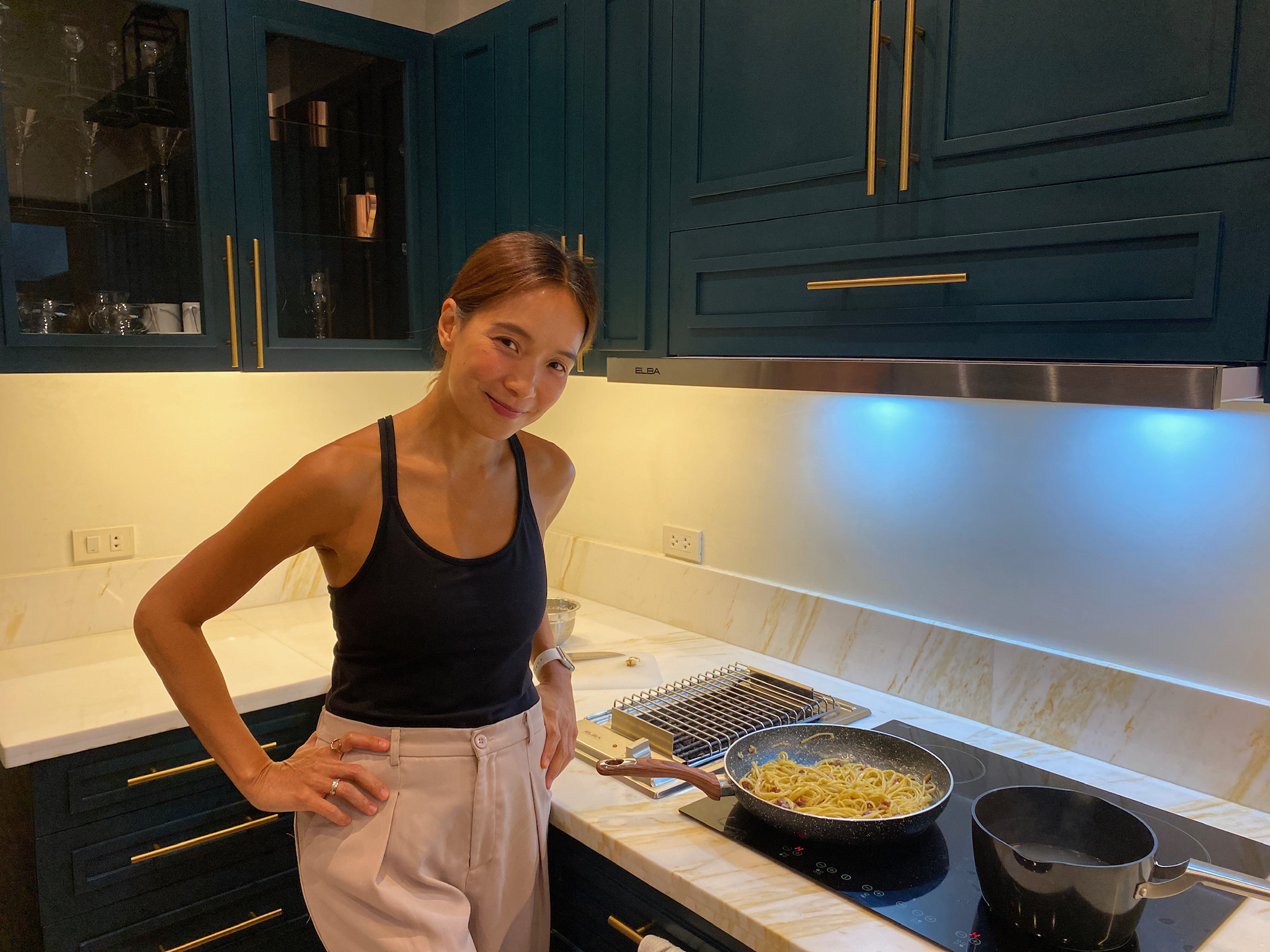 I learned how to cook and bake, and even became a grade school teacher. My eldest daughter had a term to go in Grade 2. I had no choice but to take up the cudgels and become her Grade 2 teacher… much to her chagrin. So, my schedule consisted of waking up, working out at home and then starting my one-on-one class with my seven-year-old Scarlet.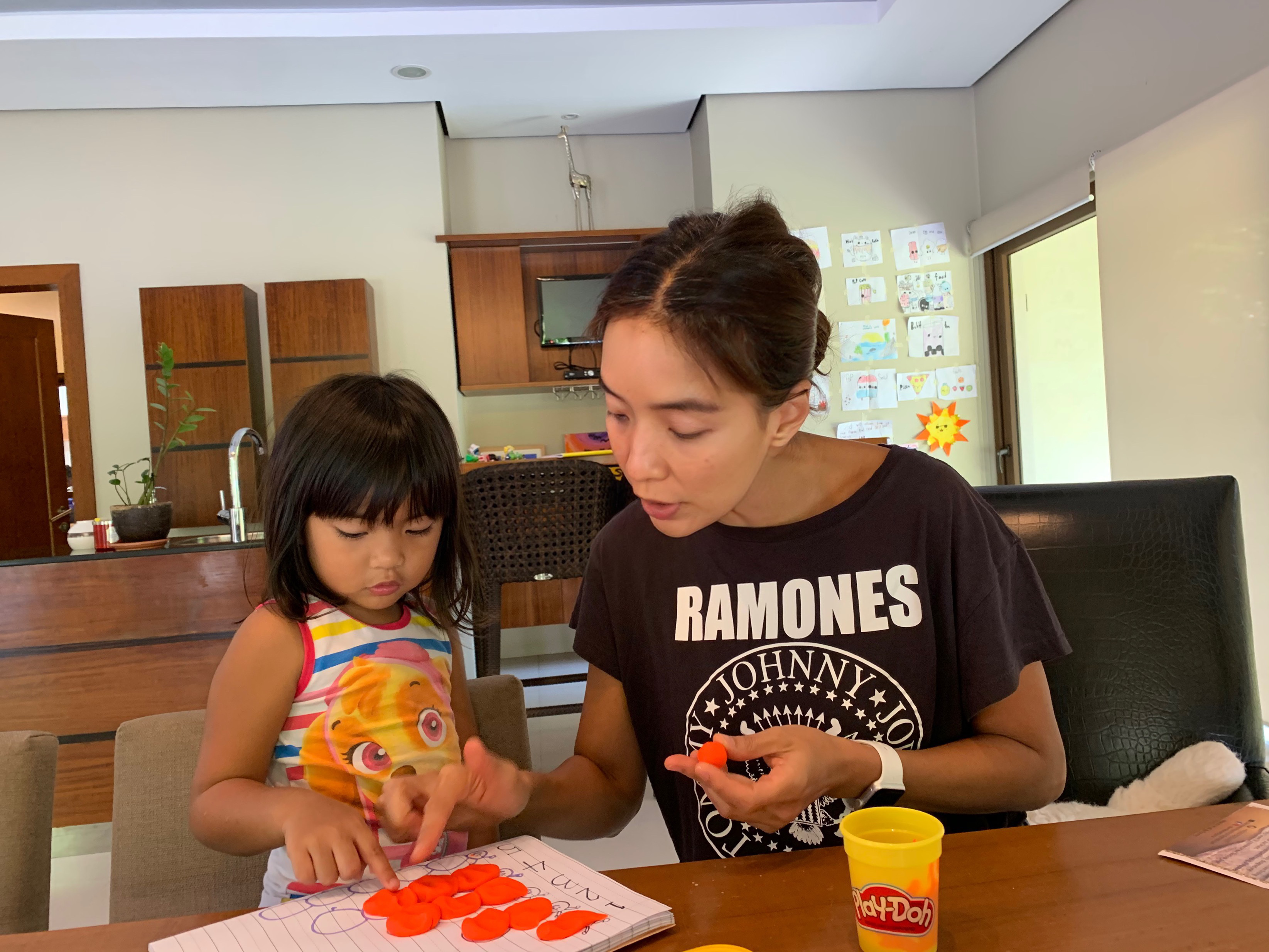 My youngest Brooklyn, three, is the most restless in our household. During pre-COVID, she would frequent indoor play spaces like Adventure Zone in the Fort, Gymboree in Makati or attend classes in One Hundred Ways in Alabang. Not really grasping the whole reason why we couldn't leave the house, she would beg us to take her to her usual haunts. But nothing was open. And there was no way I was letting kids out, not that we could. I had to scour Pinterest and Instagram for activities for my hyperactive preschooler and enroll her in her own online class.
We thought of the lockdown as an extended holiday at first. A short reprieve from work that would seamlessly spill into the Holy Week break. But Holy Week came and went. Scarlet's school year ended. And I was running out of recipes to try. The virus wasn't going anywhere.
Days turned into weeks and weeks into months. And today, three months in, we're still under some form of quarantine. What started out as a break from the norm quickly became the "new normal."
Ryan
The 16 million followers on Eat Bulaga's Facebook page had one persistent question: "Kailan kayo babalik?" On the surface, it appeared that, just like the rest of the country, Eat Bulaga had been forced into house arrest. Well, that was true. It did feel like a long time till there was something clear on the horizon as to how the EB family was going to adapt.
Taking a cue from national and local government advisories and policies, the dabarkads implemented twice-daily temperature checks and video group chats.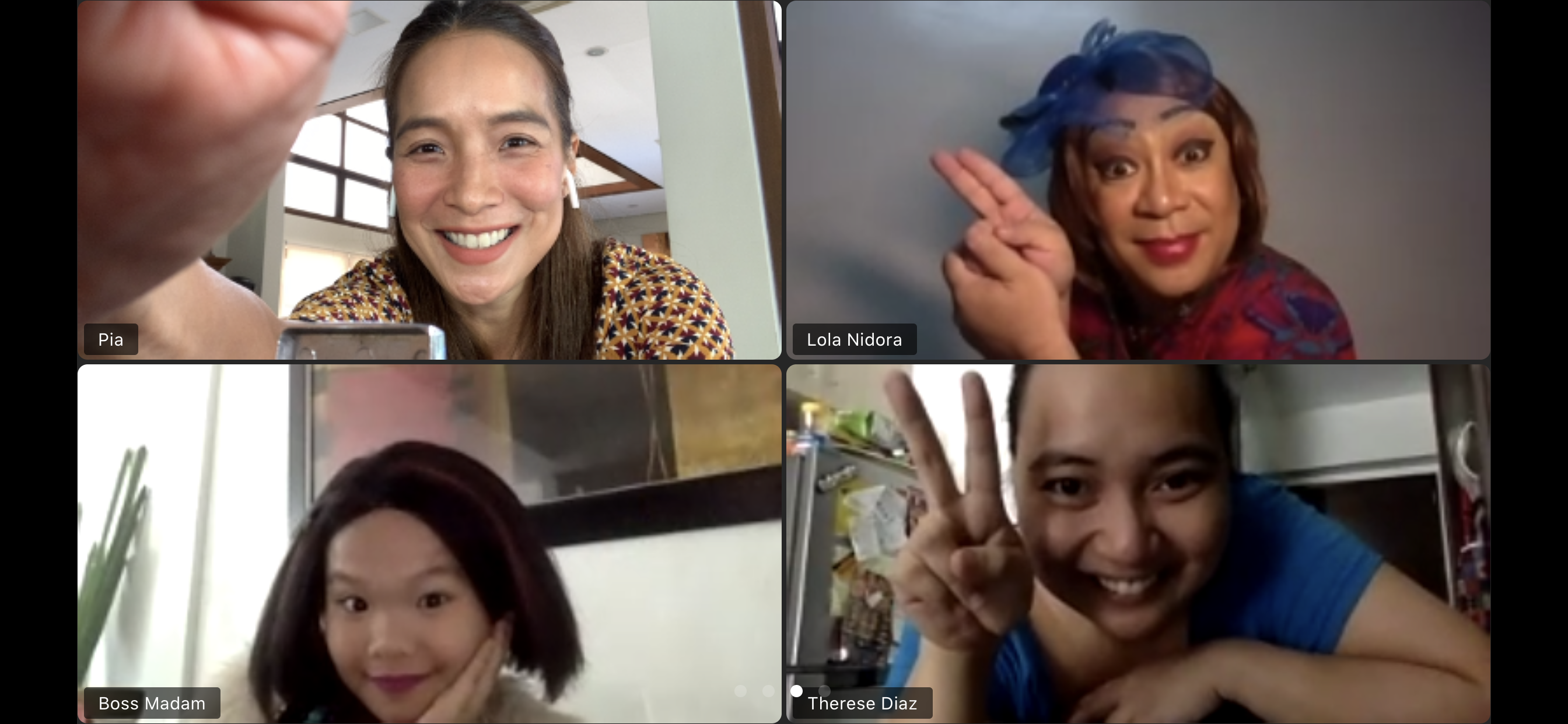 We were divided into quad teams and assigned teammates. It didn't matter whether you worked in front of the camera or behind the scenes. Our daily responsibility was to get together for an online meeting at regular set times with eight-hour intervals, do a live temperature reading and viewing. The quad leader would ask us if we had cough, colds, body pains or any symptoms of illness, whether COVID-related or not.
We would also hold our breath for 10 seconds each while on cam, the assumption being that a person with respiratory problems wouldn't be able to do this. Everything was noted and reported. Our daily whereabouts were recorded and traced. We'd do this twice daily for 14 days with each quad, then rotate to a different quad for another round. After each round, we would fill up a health declaration form to be submitted to the authorities of Cainta, Rizal, the location of Eat Bulaga's APT Studios.
We're currently on our third round. When this practice was first introduced to us, I couldn't help but be amazed at how intricately this system worked and how details were being paid attention to. We were laying down the foundations of getting back to work in, but with great attention to protecting ourselves and our loved ones.
Pia
Eat Bulaga is now back doing shows live but one look at our set and you know that nothing is the same. There's still no live audience. Our guests for our most popular segment called Bawal Judgemental are encased in isolation booths to circumvent the need to wear surgical masks on air and look like surgeons in the operating room. Our hosts are several arm's lengths away to adhere to social distancing rules. Otherwise, we wear face masks.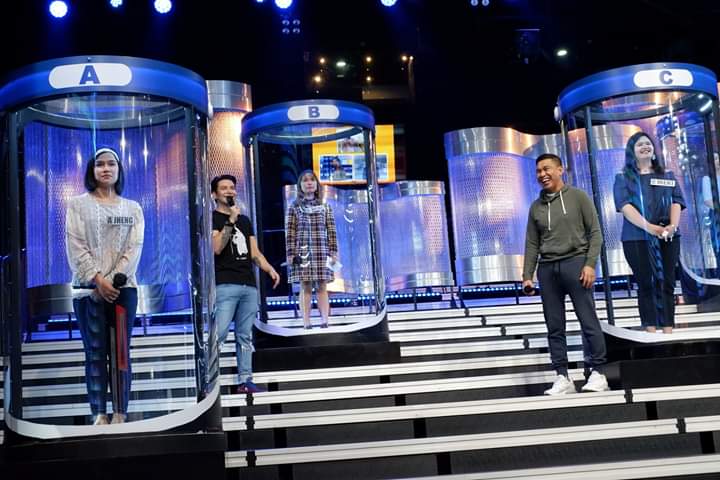 And even before you can report for work, you have to pass Eat Bulaga's health monitoring protocols. Twice a day for 14 days, an Eat Bulaga staff member makes group video calls to hosts, writers, staff and crew to check temperatures and makes sure everyone comes to work with literally a clean bill of health.
There are alcohol dispensers in every corner, disinfecting mats before you come in and the studio gets a big dose of surface disinfection after every show.
It's a whole thing. But it's a thing that we must do if we are to survive and adapt. Good thing that as humans, that's one of our best qualities. And with God's help, we can do this!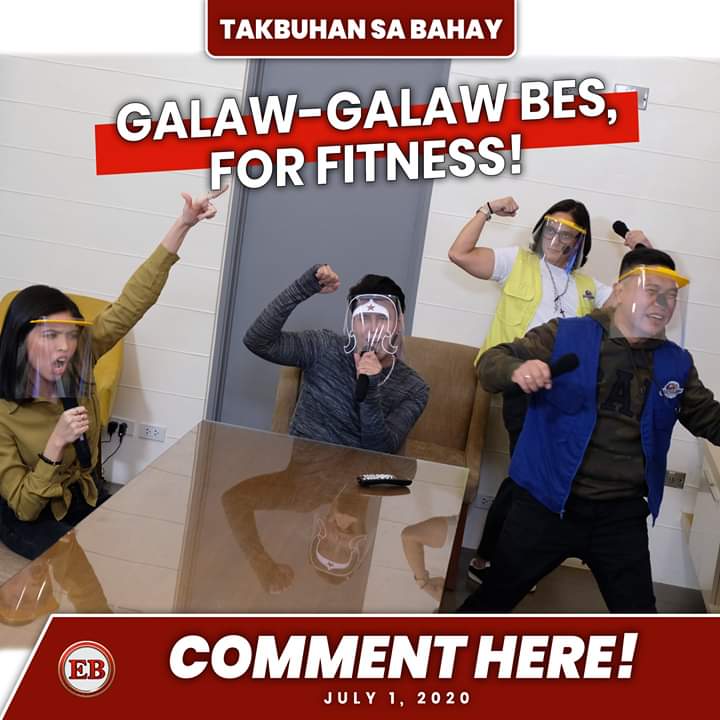 Ryan
(As of this writing) it's been three weeks now that Eat Bulaga is back on air, live from the studio. With a workforce operating at 50 percent, new sets have been built to accommodate social distancing. There are still no live audiences, still no barangay visits. But the punchlines and drama are back. You laugh and you cry with us again — only now, a tad different.
" It is still not clear to anyone in what direction this evolution takes us, but just like the past 40 years, Eat Bulaga will surely, almost imperceptibly, change with the times. "
Ever since I joined the show back in its 30th year, I would quite often get approached by a stranger who, like me, professes to being a lifelong fan of Eat Bulaga and its original trio of hosts, the titans Tito, Vic and Joey.
They always say, "Kaya paborito ko kayo mula pagkabata (dahil) hindi talaga kayo nagbabago, dabarkads!" I totally get where this sentiment comes from, but deep inside me, I also couldn't help but disagree. In my view, Eat Bulaga is the embodiment of evolution. Its very essence is a slow, almost imperceptible change over time. In its 40 years of existence, it has grown with all of us; it has changed like the rest of us.
It is still not clear to anyone in what direction this evolution takes us, but just like the past 40 years, Eat Bulaga will surely, almost imperceptibly, change with the times. It will be slow but will strive to always make the right moves. In as much as the new norm will shape it, it will shape the new standards. As it always had, and will always do.
So the next time a dabarkads tells me, "Di pa rin kayo nagbabago!" I will smile and silently say to myself, "Di lang halata, dabarkads, kasi sama-sama at sabay-sabay tayo nagbabago."
Additional photos from Eat Bulaga's Facebook page.
Edited by Nathalie Tomada