2020 threw us an early curveball, ushering in a "new normal" that continues to affect every aspect of our daily lives. Amid adversity, Filipinos have always been known as resilient people — always finding creative ways to cope and survive. However, this pandemic brought us to unfamiliar territory with everyone not knowing what to expect next.
With the end of this global health crisis nowhere in sight, never has there been a more appropriate time for us to re-examine the things that are important to us. If COVID-19 has taught us anything, it has highlighted the lack of convenient access to essential services and how moving toward a digital economy solves this.
The use of internet and online services is not a foreign concept to Filipinos. It is even considered as a great equalizer, cutting across all social classes and systems. Digital services give us the opportunity to do more as we continue to complete our daily tasks safely in the comfort of our homes. As an example, online education is something I heavily focus on especially because I have two kids. The pandemic shouldn't put on hold their continued learning, whether it is academics or new hobbies they want to pursue.
Indeed, the demand for digital platforms is suddenly seeing a fast rise as it becomes more relevant. From online food delivery to digital groceries, virtual storefronts and cashless fund transfers — all are experiencing huge volume surges. GCash is at the forefront of enabling this emerging need for digital services.
Demand & relevance increasing exponentially
" In the first three months of lockdown, we experienced an exponential increase in transactions, breaking records and milestones as the days go by. Compared to this time last year, we have ballooned by 700 percent — driven by relevant services like online payments, bank cash-in and sending money. "
The shift of focus towards digitalization has put the spotlight on our pioneering financial technology (fintech) platform with many realizing GCash's true relevance in this pandemic.
We have strengthened our position as the top financial app in the country with more people downloading and registering to GCash, doubling the velocity month on month prior to COVID. In the first three months of lockdown, we experienced an exponential increase in transactions, breaking records and milestones as the days go by. Compared to this time last year, we have ballooned by 700 percent — driven by relevant services like online payments, bank cash-in and sending money.
Where there has been growth in the number of online shops and food deliveries, users have largely turned to digital wallets for payments. As the pandemic forced businesses to move online and affected job security, GCash has been a haven for merchants and "social sellers" by offering more accessible cashless payment acceptance.
Realizing that my home will now indefinitely be my office, I am finding ways to make this space a bit more conducive for both work and play. Whether it be creating a mini-gym for workouts or purchasing plants for a more calming environment, GCash has given me access to a wide range of merchants to fit my new normal.
At a time where the public is discouraged to leave their homes, many turned to GCash as a way of sending money. This is a perfect example of Filipino resourcefulness, as many are making the most of this service by sending money to small businesses as payment for goods, pabili payment for family members already out of the house, and donating to those who need it the most.
Recognizing our capacity to impact the growth of the digital economy, we urgently stepped up to the plate by upgrading our system to ensure seamless and secure experiences for our users. Working with Ant Financial, which runs the world's largest digital wallet Alipay, we migrated our system to its A+ platform, future-proofing us for scale in the coming years.
Not just an option, a necessity
Personally, GCash is my lifeline during this pandemic. It allowed me to safely conduct my recurring errands of grocery shopping and paying bills at the comfort of my home. I'm sure this experience is not something unique to me, but to many more Filipinos who deserve more convenient alternatives. The volume of transactions and the increasing popularity of GCash only shows that it is no longer just an option, but has become a necessity.
The pandemic has acted as a catalyst in this shift, making people aware of the importance and role of digital finance in society today. Even among the younger generation, research shows rising interest and searches for topics related to financial security, literacy, savings, and wealth management.
Our vision at GCash is to provide finance for all. We believe that financial services like savings, credit, investment and insurance are products not meant only for the rich. We have been working towards enabling democratized access to these services as every Filipino deserves to live better every day.
Admittedly, with the surge in growth, our workload has been crazy. But our spirits have never burned brighter — the energy to evolve and grow our platform in order to help the country in this fight against the virus motivates us in our journey toward our purpose: to help make sure every Filipino has access to financial services, anywhere and everywhere.
Still a lot left to do, but we can do it together
There is a lot we don't know about what the future holds, but what we do know is that working together is the way to go. All hands on deck are needed, as we fully support the government in its digitalization efforts to help ensure every Filipino survives this pandemic.
Both LGUs and national government agencies have recognized the need to use digital wallets in streamlining the distribution of emergency cash aid to Filipino households. The pandemic has made distributing cash unsafe due to the higher risk of infection with the exchange of bills, on top of the huge manpower needed and tedious liquidation process.
Makati City, a long-time GCash partner for their Makatizen city ID program, tapped us to assist in cash disbursements to their own citizens affected by the community quarantine.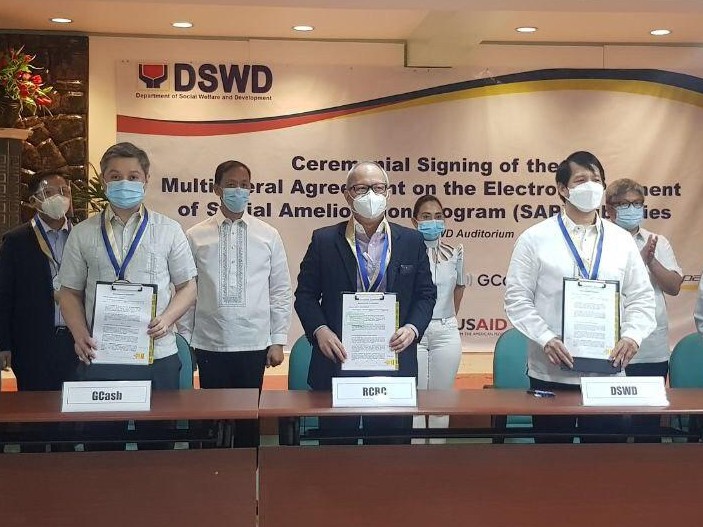 Following Makati's lead, more LGUs like Quezon City and Taguig, as well as DSWD and LTFRB, are going digital and are also currently using our disbursement platform. So far, GCash has helped disburse over P1.8 billion in financial aid to 350,000 beneficiaries of financial aid programs.
Last June 30, we were awarded the disbursement of the second tranche of the Social Amelioration Program (SAP) by the DSWD, under the newly minted Bayanihan to Heal as One Act. We will be disbursing around P16 billion to 2.4 million beneficiaries who are in urgent need of cash assistance.
As we continue to pool our efforts, GCash has also aided initiatives by NGOs and private individuals who have stepped up to help disenfranchised Filipino workers, providing them a platform to receive and send donations.
It is in gestures like these that empower GCash to do better, to deliver on our promise and continue to provide services that are essential in this new normal we're experiencing.
Despite all the breakthroughs we have made in digital financial services, there is still room to grow to create a greater impact on Filipino lives. We will continue to work and collaborate with private businesses, financial institutions and the public sector to achieve the Bangko Sentral ng Pilipinas' vision of a cashless society, in line with GCash's vision of Finance for All.
Edited by Rica Delfinado