The Dayrit house in Makati is known to some as the Royal Orphanage. When her parents passed away (20 days apart) in 1997, Christine Dayrit, a travel writer for

The STAR

and an owner of Miladay Jewels, became the "royal innkeeper" of the house. It is also a home for her best friend and

STAR

columnist Büm Tenorio after her parents "adopted" him in 1995. She and Büm live in a two-level sanctuary that has its own entrance different from the main house. When Jaqui Boncan, eldest sister of Christine, got widowed in 2018, she transferred to the apartment below Christine and Bum. Mike Mina, creative consultant of Miladay, became close to the family that he, too, was adopted in 2005. Fr. Gerard Deveza, the spiritual adviser of the Dayrits, became a resident, too, of the house in 2019. Both Mike and Fr. Gerard live in the main house.
Pre-COVID, though they checked on each other every day, they only shared occasional meals. But the pandemic made them break bread every day — breakfast, lunch and dinner. And what a joy to see them care for each other and the other friends of Christine (Pamboy Pastor, Mel Martinez and her daughter Khatrina) who also got locked down with them.
To this day, they are together. They prove that friends who quarantine together, stay together.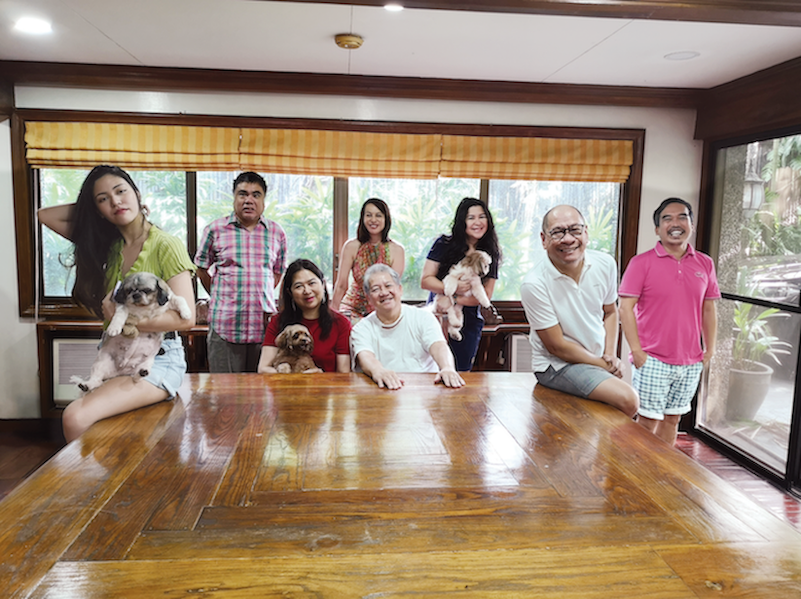 The Innkeeper of the Royal Orphanage (Christine Dayrit)
I felt blessed to be locked down with an interesting bunch of wonderful people who love life, laughter and everything in between. Just spending quality time with each of them taught me a lot about the dynamics of a relationship — love and respect as ingredients. Nothing more. Nothing less.
During the lockdown, I took care of feeding everyone. There were eight of us having breakfast, lunch, merienda and dinner together so I had to make sure the food was ample and tasteful. Some of us went to the grocery and the market for fresh fruits and ingredients. I also purchased the masks that everyone needed. When I finally learned how to use Grab Delivery and Lalamove, I would treat everyone to merienda every day as I led the group to watch Crash Landing on You (CLOY) and other Korean flicks and Pinoy teleseryes.
Our house was enveloped in happiness the whole time but we never forgot to help others. We got involved in my family's advocacy called A-Meal-A-Day where we helped feed the tired and overworked frontliners in the hospitals in Metro Manila. As Fr. Gerard told us in his homily, "The time of the pandemic is the time we also think of others." To this day, "A-Meal-A-Day" continues.
The Thinker (Jaqui Boncan)
This lockdown was a reset button for me. A gift of time that came unexpectedly and brought our lives into a screeching halt. Before this lockdown, I was deep into the hustle and bustle of life and was always catching my breath from multiple meetings, get-togethers and activities. I called them my barbecue days where you skewed all activities together and packed them all in.
Then the lockdown happened. I created a daily routine calendar for me and tried to build healthy habits.
I was awake by 5:30 a.m. to pray and read my Bible, exercise, have a healthy breakfast with the rest in the house.
Because I was in quarantine with friends at home, I also prepared simple healthy home-cooked meals for everyone.
The beauty queen expert (Pamboy Pastor)
I graduated from my mission school in Antipolo on March 6 where Christine, my childhood best friend, attended the ceremony. As a treat, she brought me to Sonya's Garden right after my graduation. Coming home from Tagaytay, we did not expect a lockdown. My house on Broadway was so near yet I couldn't go home because checkpoints were already being set up. She offered her house to be my shelter. To this day, I am still here.
The lockdown experience taught me how to be patient, persevering, and repentant. It enabled me to rethink my life priorities, which in the past were very mundane and worldly.
For the entertaining part during the lockdown, I lavished everyone with hilarious information pertinent to beauty queens and pageants of yesteryears. Night and day, I would amuse them with my extensive knowledge about beauty queens of the past, replete with Q&A booboos, as I aped the catwalk of the Miss Universe winners. It was such a hit that Büm Tenorio decided to put up an FB Live show every Sunday titled "Corona Conversations," where he and I talked about the crowns of beauty queens and not the coronavirus. It made our Sunday afternoons not so holy but at least less lackadaisical.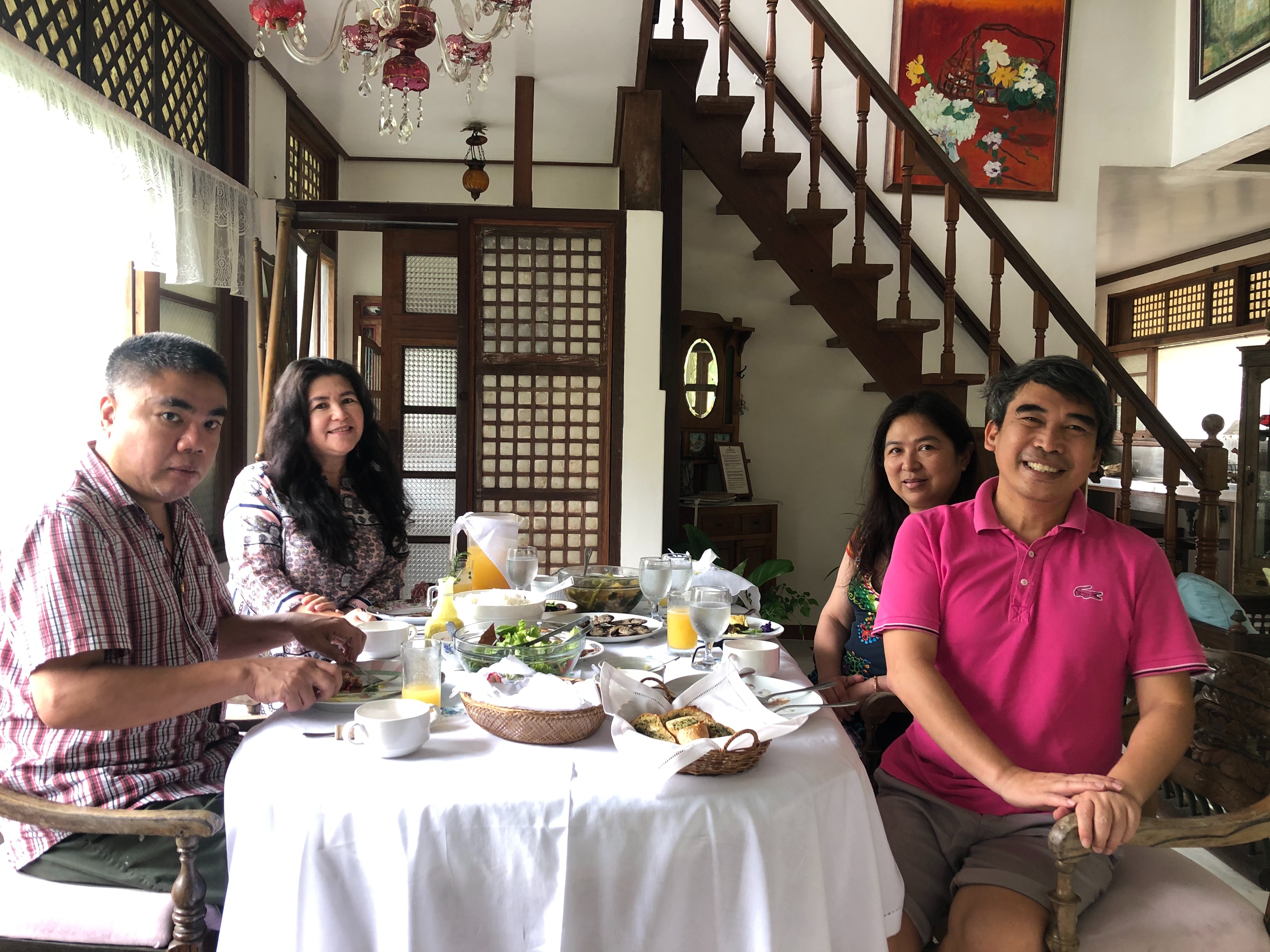 The Driver (Mel Martinez)
Before the lockdown, I spent my days travelling to Europe and the States. I once represented the country at the Mrs. World competition in the US.
But during the lockdown — my days were spent travelling to the markets, groceries, remittance centers, drug stores and the bank! In addition to this, I had to change the wheels of my car by myself. I was the assigned driver of the group.
During the modified lockdown, I was finally able to visit my house in Silang, Cavite after three months. To my surprise, the grass was higher than the house and so many mangoes in my trees were ready for harvest — a real forest by the concrete highway.
At night, before we all went to bed, I led the group in praying the rosary.
The Millennial (Khat Martinez)
The lockdown has been a rollercoaster to most. Working for the media industry has generally opened my eyes to the atrocities happening all around the globe. It is disheartening to hear about people losing their jobs or having to beg for money because of the pandemic.
Being in quarantine makes it hard to think about the future. Besides being newly accustomed to the work-from-home setup, my days were wasted by online shopping in Shopee, binge-watching different shows on Netflix, working out, and connecting with friends through social media.
My role in the group? I helped some of them troubleshoot their gadgets. I lovingly uploaded photos on the Facebook page of Fr. Gerard, who was most active in his fund drive for frontliners and patients of COVID, more people would send help.
" Lockdown became a way to a better relationship with one another, supporting each other through prayer. We learned how to share our resources. But most importantly, we became A FAMILY. "
The Techie (Mike Mina)
"Very little is needed to make a happy life." This quote from Marcus Aurelius sums up what I learned during the lockdown.
Before the lockdown took hold, I never would have guessed how easy it is to pause and do without my usual consumption and habits. Now that shopping in the mall, getting a head shave from my barber of years, or popping into the supermarket for a single ingredient or some random stuff, has become almost impossible, I've realized that I'm doing just fine. I don't need so much stuff or as many conveniences as I've become accustomed to. The basic essentials — food, clean water, and good health — are much more important than having a facial or buying new clothes.
The virus taught us that we can all act together to make a change — by simply staying at home and following protocols to not put others at risk, and not compromise the healthcare system.
And my role in the house during ECQ? Aside from preparing dishes for the regular Sunday brunches, I took charge of setting up the lanai and technical equipment for our Sunday Zoom masses.
It's a joy to know that you are not alone in this fight.
The Priest (Fr. Gerard Deveza)
For almost four months now, we are scared of something that we cannot even see, an enemy that is invisible and yet we hid, we locked ourselves, afraid to go out for fear of contamination from the invisible.
Am I afraid? My answer is definitely yes and no. Yes for fear that someone will blame me if someone gets sick because of me, no because I know that I won't get the virus. My weapon to fight the virus is prayer, I fully trust God and I know he will protect me.
During the lockdown, I became more prayerful. I would say Mass inside the confines of my room. Here is where I communicate with God, where I bring people's intentions, where I pray for my loved ones, my friends.
Lockdown became a way to a better relationship with one another, supporting each other through prayer. We learned how to share our resources. But most importantly, we became A FAMILY.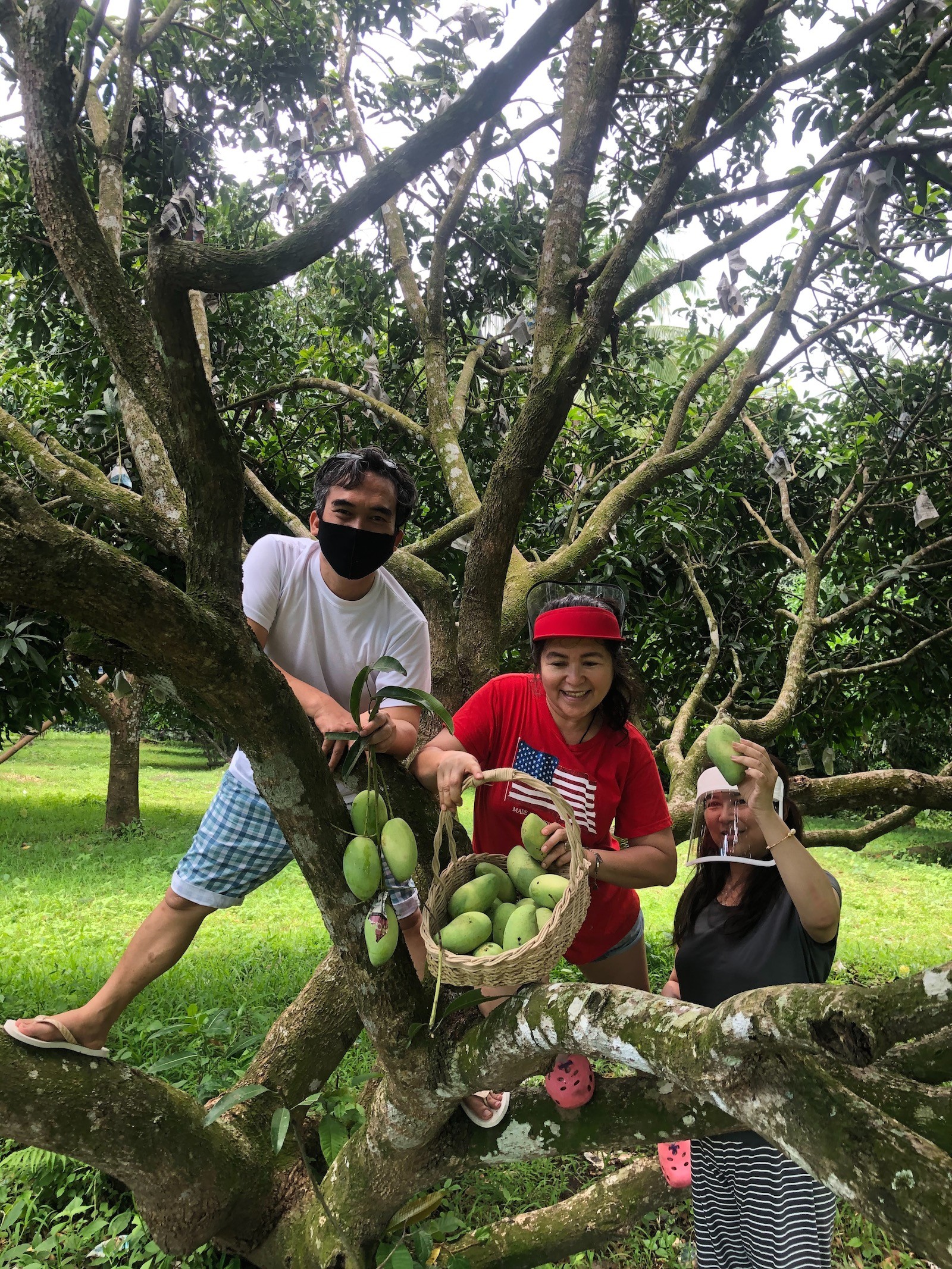 The paranoid (Büm Tenorio)
I was the most paranoid of all of us. As a journalist, I always want to know the real score about the virus. I would always check the FB page of The Philippine STAR for COVID updates. I would endlessly browse my online subscription of The New York Times or watch BBC for global updates. The more I knew about the virus, the more paranoid I became.
I would be worried about the slightest rumbling in my stomach or a simple sniffle. Once, as they all watched me with amusement, I called the DOH-COVID hotline on a speakerphone. "Based on your recollection, we will rule out COVID-19. No fever, no colds, no cough, no nothing. Have you been getting good sleep?" asked the lady doctor on the phone. I said no. "Itulog n'yo na lang muna yan." They laughed.
In my date with paranoia, I made rules and lovingly asked everyone to follow them.
No. 1. Food delivery will be received by the guard wearing a face mask. The delivery guy will put the box of food on a chair outside the gate. The box will be disinfected.
No. 2. Those who will go out of the house (that's Mel and Yaya Vivian) for essential needs need to take a bath right away in the shower room in the disco hall in the main house using the backdoor entry. Only then will they be allowed to commune with others.
No.3. Those who go out of the house to be with other people not quarantined with us will not be allowed to enter the house again. (I had to follow this rule because after 51 days of not leaving the house, not even outside the gate, I had to go home to my mother in Cabuyao for an emergency. I only went back to Makati last week of June when I turned negative in my Rapid test.)
No. 4. Friends who want to bring food will not be allowed to enter the gate of the house. We would just gratefully wave at them from the window.
No. 5. Remind everyone to exercise.
Those rules were strictly followed during the ECQ. So far, so good. We are still a family. By the grace of God, we are all still alive.
Edited by Büm Tenorio Jr.