This is the best time to become a journalist.
The need for reliable, accurate and unbiased information about the coronavirus is necessary to allay public fears as well as provide timely and relevant information to avoid contracting the highly contagious respiratory disease.
Health experts who know more about the pathogen would be able to explain the origin and the impact of the disease to ordinary people through journalists who interpret complex and scientific jargon into simple language that can be understood.
That's the role of journalists in a society. A journalist helps disseminate information for the people to easily understand the issue. It is always driven by the public's right to information.
" Journalists are unsung heroes yet they also go to war against an unseen enemy but with lesser armor or protection, and without additional compensation. "
Like health care workers — doctors and nurses — and security forces, journalists are also first responders because they get the stories for the public to have clear and truthful information about the deadly virus that has infected more than 16 million worldwide, including 80,448 in the Philippines.
As of this writing, the worldwide death toll is 644,661; in the Philippines, it's 1,932.
Unlike health workers and security forces, journalists are unsung heroes yet they also go to war against an unseen enemy but with lesser armor or protection, and without additional compensation.
Journalists have to face the same dangers and threats to their lives. They cannot stay at home. They have to be at the forefront to tell stories, putting faces and bringing emotions in images and words for people to understand better the impact of the public health crisis.
They bring to the government's attention the plight of ordinary people who suffer in silence as many of them lost their jobs and livelihoods due to the prolonged lockdowns, one of the world's longest and strictest curbs to prevent the virus from further spreading.
We do not have an easy job. The lockdown has also made it difficult to gather information, double-check details from news sources who are not always available for face-to-face interaction due to social distancing and the absence of public transportation.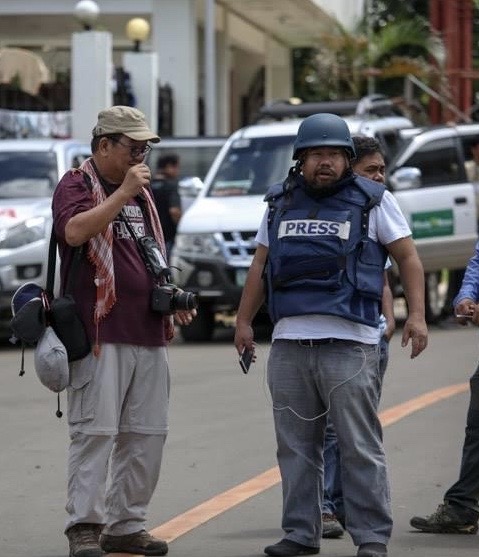 The resourcefulness and experience of journalists are tested as well, especially older journalists who are just beginning to adapt to the latest technology as Philippine media migrate to digital platforms.
It has led to the early demise of many news organizations due to falling ad revenues in all platforms as more Filipinos turn to social media to consume news, which are more accessible during the lockdown.
Even with these obstacles, journalists are able to hurdle roadblocks and landmines to deliver accurate, fair, and truthful reports transparently.
They shatter myths and combat disinformation, restoring the level of trust from a public polarized by a divisive army of keyboard warriors from both sides of the political fence who are out to discredit the legacy press.
" This is the time to realize the important role of the Fourth Estate as a watchdog. It does not report to please the powerful but to hold them accountable for their actions. "
By now, people should realize the importance of a free and independent media in a democracy, and only consume sober, truthful and unbiased stories from reliable sources of information during a pandemic.
The public should also come to realize that legacy media do not only inform and educate but also call out any wrongdoing in government and in the private sector.
This is the time to realize the important role of the Fourth Estate as a watchdog. It does not report to please the powerful but to hold them accountable for their actions.
Journalists do not serve as publicists or as tools of propaganda for even the most popular leader of any country. They do not find any fault and malign the government for the sake of making criticism without any strong evidence or proof backing up an accusation. They will not point a finger at the risk of facing a libel suit. Everything must be based on facts, but they also have the right to protect their sources of information especially if it puts their lives in grave danger.
That is how powerful the media is, but it now faces a real, imminent threat to curtail its freedom as there are sectors out to destroy its credibility and the coronavirus pandemic has provided them with a chance to impose more control, limit the movement of journalists and deny them access to information.
It's difficult for journalists to challenge and ask follow-up questions in a virtual news conference and to ferret out sensitive information from confidential sources.
Official sources can filter and even shut down information, or deflect negative news by calling it "fake news" as they employ a lynch mob on social media against news outlets.
Filipino journalists are lucky to have survived more than three months of lockdown with declining revenues to support very expensive news operations and increasing controls from authorities.
Moving forward, the basic principles of journalism based on accuracy, fairness, impartiality and transparency will remain sacrosanct. But we have to be extra careful in gathering information from primary sources, verifying details not just once, twice or thrice to make sure everything checks out in getting all sides of the story.
What will probably change is the way journalism is conducted under the "new normal," which could last for two or three more years or until the virus peters out and a vaccine is available.
There will be a lot of restrictions on movement, access and transparency. Technology will play a bigger role and data mining would be a more valuable tool in doing enterprise stories.
Networking and the cultivation of news sources are more important as shoe-leather journalism combined with technology will drive future news-gathering techniques.
News production will be at a faster pace as real-time news coverage will be the norm as legacy media compete with social media in space, audience attention, and delivery of news.
However, the media will have to work extra hard to provide context and background as well as more informed analysis of the issues. There will be a much lower tolerance for lapses and mistakes. The journalism landscape will be very different with a greater demand for accountability, accuracy, transparency, and responsibility — while operating on a shoe-string budget under a restrictive environment.
Tough, challenging times are nothing new to journalists. It's the best time for them to shine.
Edited by Tanya T. Lara