I've already lost count how many days we are in this lockdown, or to more kindly call it, community quarantine. Have we reached a hundred already? I don't know. During the first round of the quarantine, I thought this would be bearable. We will be locked inside our houses for 30 days. Easy-peasy!
From November to December 2018, I was locked in a psychiatric facility for about a month because of my depression. While inside the facility, we didn't have access to our gadgets, even to the internet. That's around the same number of days as the first round of the quarantine. Now, months after that, I know I am already sick of being locked indoors. I miss my friends. I miss my family. Talking scientifically, when we touch a loved one, the hormone oxytocin is released. It is also called the "cuddle hormone." It promotes feelings of love, bonding and well-being. And now with a lack of hugs and other physical contact, I am definitely lacking that hormone. It has indeed increased my depression and anxiety.
I have no idea when all of this will be over or if we will ever go back to "normal." I don't know if we could go back to hugging our friends, or kissing our loved ones. It's been really difficult. To start with, I already have a mental illness. I've been diagnosed with major depressive disorder and anxiety for over 11 years now. What more for those who don't have an underlying mental condition? I've read on the news that the calls received at the National Center for Mental Health (NCMH) crisis lines have increased significantly since mid-March. The responders of the crisis lines reported that the callers' issues are mostly increased depression and anxiety as caused by this pandemic. (If you need someone to talk to regarding your mental health, feel free to contact NCMH 24/7 Crisis Hotline: 0917-899-USAP (8727) or 989-USAP (8727). The calls are confidential and responders are experts on the field.)
" Hope is something that can help us survive all of this. If we hold on to hope, if we believe that all of these will end someday, and that we shall have our lives back, we will be able to stay alive. "
So, what has been helping me cope during these difficult times? Let me share with you three things that have kept me afloat these months.
First is my constant and continuing psychotherapy with my care provider. Even before the pandemic, I've been meeting with my psychiatrist every two weeks for therapy. Sometimes, like this past week, we have met for an interval of a week because things have been really rough for me. For the duration of the entire community quarantine, as of writing, I've met her for eight sessions. It's convenient now because there are already telemedicine providers. Since my doctor has temporarily stopped doing face-to-face consultations, we meet through an online clinic. We use video conferences and do our session remotely through Mindcare Club (MCC). Throughout this pandemic, I've referred quite a number of my friends to MCC during the lockdown since they felt they also needed to seek professional help. (If you need to consult with a mental health professional, feel free to contact Mindcare Club through www.mindcareclub.com and www.facebook.com/mindcareclub/.)
Another thing that helps me cope is keeping my social connections despite the physical distancing. I know this is something that is not that easy to do. For the past weeks, I find myself feeling very lonely, to the point of crying because I just feel so alone, and the reality that I can't see, hug or touch my friends and loved ones anytime soon is just too much. But there is already technology available to keep us connected to our social support. There are online platforms such as Zoom, Google Meet, and Facebook Messenger. Every Friday, my prayer group meets and we talk about things that are important for us. My online support group, Anxiety and Depression Support Philippines offers Kwentuhan during Lockdown sessions for those who are just looking for a place to chat. Whenever I feel lonely, I send a line to my friends through private messaging. The constant connection, albeit virtual, helps me a lot. It somehow lessens the loneliness. Even a virtual hug through a hug emoji feels like the real thing.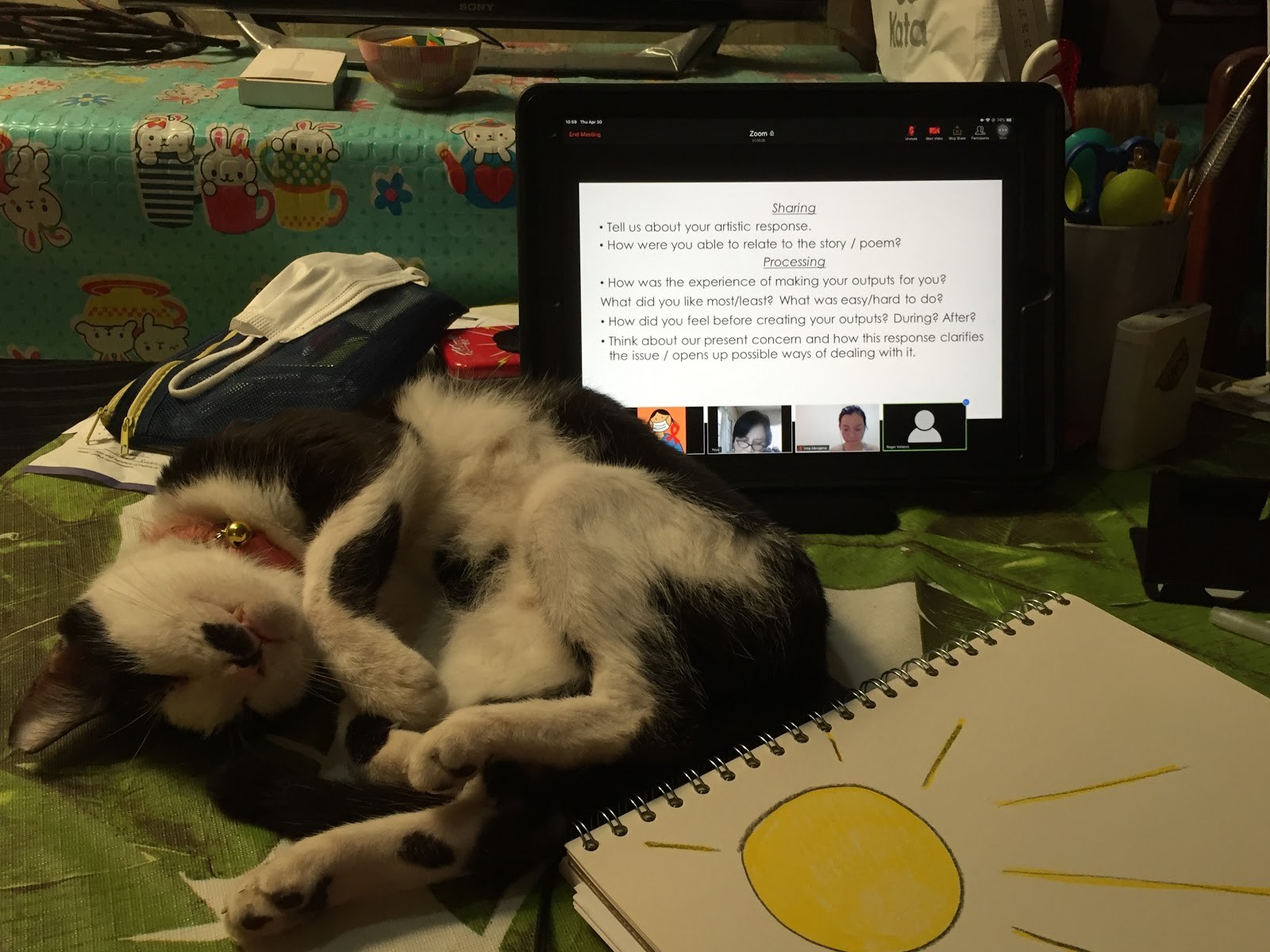 The third thing that I would share is helping others. My friends and I have offered online arts-based support group sessions for medical frontliners and a separate session that I facilitate for lay people during the lockdown. As much as these sessions are meant to de-stress the participants, they have actually helped me more because I am not stuck inside my head. This gives me a venue to go out of myself and help others.
There have been studies saying that doing volunteer work is good for our mental health. I suggest you also do this in your own way. It does not have to be arts-related. You can just help your parents cook lunch, or help your sibling with his or her online school work. You can help frontliners by baking cookies for them. There are a lot of things to do. There will always be opportunities to help.
My last advice to survive all of this — hold on to hope. I don't really know when all these will be over. That's the problem with this pandemic, it's open-ended. Unlike a storm that can be forecasted by the weatherman when it will leave our area of responsibility, this pandemic is just there until our scientists find a vaccine. And even then, we don't know if we can get access to a vaccine. But we must keep on hoping. Hope is something that can help us survive all of this. If we hold on to hope, if we believe that all of these will end someday, and that we shall have our lives back, we will be able to stay alive. We've heard of heartbreaking news where people have taken their own lives (may their souls rest in peace). Just recently, there were three posts about suicide in my newsfeed on Facebook. It is distressing. These are the people who've lost hope. These are the people who've given up that things will get better. But we must fight hopelessness. I always say that as long as the sun rises every day, there will always be hope.
We are stronger than coronavirus. We may have been locked indoors for now and we may have been separated from our loved ones, but all these will have an end. Hold on to hope. Someday, everything will be alright.
Edited by Büm Tenorio Jr.