The coronavirus disease 2019 (COVID-19) pandemic has created a health and economic crisis, the likes of which we have not seen in our lifetime. It has turned the world upside down and has caused major disruptions in the way we live.
Like many in the private sector, we have tried to ease the burden of our countrymen by helping where we can. Over the last few months, we have been ferrying healthcare professionals and essential workers to their places of employment due to the ban on public transport under the community quarantine.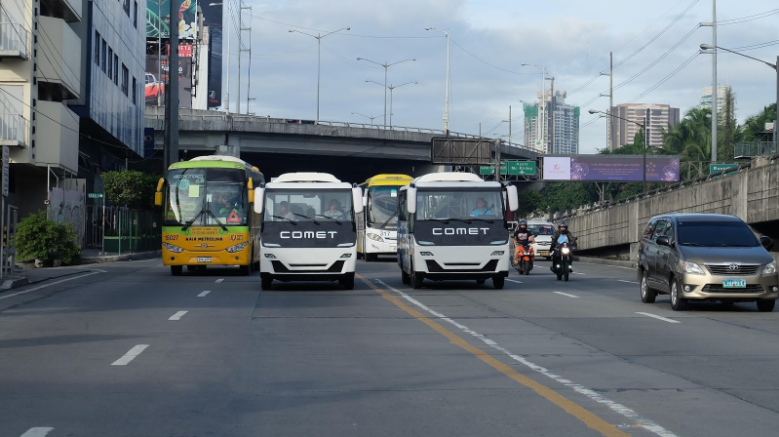 A silver lining to this ordeal was that it confirmed our transport approach was exactly what was called for. Electric microbuses using a mobile app passenger management system is the ideal mobility solution for the new normal. It is a clean, intelligent, and efficient transport alternative. Passengers got to ride a zero-emission and completely pollution-free vehicle, transact with the driver in a contactless and cashless manner, and health organizations are provided with a contact tracing trail if needed.
This solution came about neither by accident nor did it happen overnight. It came from living in the Philippines, where haphazard transport is the norm. Our solution arose from our frustration. The technology available today, as well as the scale of the problems facing the planet, means that it has never been more possible or more essential for us to make a difference and change the world. The Philippines is at the center of this change because the solutions to the world's problems will come from places where they are needed most.
People view commuting as a contest between the private car versus public transit. Cars offer flexibility and convenience but carry too few passengers, cause gridlock on the road, and spend more time parked than moving through cities. Mass transport, on the other hand, offers more efficient collective travel but is inflexible and expensive to build and deploy.
In countries where quality mass transit is hard to come by, micro-transit provides the missing service between large-scale mass transportation and private cars or taxis. This is why the Philippine jeepney exists. Fares are cheap, parts are easy to come by and its intermediate vehicle size is compatible with Metro Manila's narrow road network and congested inner-city areas. The jeepney, and similar options, are clearly the most popular form of transport in the developing world. At the same time, they are also scattered, disorganized, inefficient, and unsafe.
We believe the answer to the problems most cities face is not to dump this micro-transit product, but to update it for the 21st century. In our case, we partnered with Barcelona-based QEV Technology, which has a long history in electromobility and motorsports. Our partnership brought world-class design, cutting-edge engineering, and cost-effective production to the world of public transport.
Most other e-vehicles have failed to progress beyond their status as an urban novelty as they continue to use lead-acid batteries and undersized motors resulting in inadequate range and an inability to operate in steep terrain. In contrast, QEV's Race to Road engineering philosophy means we have access to top-of-the-line batteries, motors, design expertise and charging systems giving us Formula-E technology in our microbus.
" One of the issues we need to address as we try to improve public transportation is the displacement of jeepney owners and drivers. The correct strategy is to partner with transport organizations instead of just selling vehicles to them. "
For electric transport to succeed, it must be as good if not better than existing diesel vehicles already out there. It must be affordable and it must be robust. It has to have air-conditioning. It must have the fast-charging capability to minimize downtime. And for good measure, it must be accessible for persons with disabilities so that public transport becomes inclusive and sustainable.
But the vehicle is only part of the solution. Cities are always created around a state-of-the-art transportation device. Today, that device is the smartphone. As the two worlds of car and cloud start to share common ground, we are seeing the rise of the smartphone on wheels. The integrated mobile app should allow passengers to track the fleet and pay for their rides in a smart, seamless, and contactless manner. The entire system makes travel more efficient and more intelligent reducing vehicle trips, optimizing operations, and increasing passenger satisfaction.
Pollution and congestion can only be addressed with a seamless solution that combines these innovations in the automotive, transportation, and technology industries. For the business model to work, it must integrate the electric vehicle, a fleet management system and passenger mobile app.
By combining hardware and software and selecting the appropriate environment to deploy this combined solution, the advantages of the electric vehicle are maximized while the primary issues related to their cost, range, and infrastructure are mitigated or eliminated.
Real progress has never been about technology; it has always been about people. One of the issues we need to address as we try to improve public transportation is the displacement of jeepney owners and drivers. The correct strategy is to partner with transport organizations instead of just selling vehicles to them.
This inclusive, shared ownership solution delivers a large-scale social impact where all sectors benefit. The riding public get a better daily commute, drivers work in a better setting with higher pay, and everyone enjoys a cleaner environment. This Mobility as a Service model saves jobs and generates more economic opportunities and higher financial returns. It also transforms chaotic, competing, and polluting vehicles into an organized, efficient, and clean transport system that delivers a true triple bottom line.
These are trying times for the entire planet. Our entire way of life is being challenged. The world that emerges in the aftermath of the pandemic will not be the same as the one that entered it. Businesses will be required to innovate or be left behind. We feel that this is the time to create systemic change instead of just coming up with band-aid solutions.
A positive side-effect of this pandemic is the clean air and blue skies that we have not seen in decades. This is a direct result of having significantly fewer polluting vehicles on the roads. We can choose to keep it this way. We believe that public transport can be modernized and the economy restarted without compromising jobs, our health or the environment.
This is a time not only to reset but to build back better. We believe that if we want to really improve our country, we should do it with zero-emission vehicles instead of with old diesel technology that has already been banned in most of the world's developed cities.
We are committed not only to adapting to the new normal but championing it by creating vital zero-emission solutions for the masses. Health and economic issues will demand that public transport be more spacious and more passenger-friendly and still be affordable. By combining top-of-the-line electric vehicle technology with cloud-based mobile applications, we look to deliver a transport solution that can transform urban environments, and deliver life-changing solutions for all.
Together let us work towards reshaping our planet for the sake of a greener and brighter future. Together, we can.
Edited by Tanya T. Lara