SUDBURY, Massachusetts — I write this from the town of Sudbury in Middlesex County, where I have been staying since March when the COVID-19 pandemic broke out.
Early this year, I was still in Manila where I reside — catching up with friends for post-Christmas celebrations; consulting with the staff and the artists of my talent agency, Global Resource Creative Exchange Inc., for our 2020 plans, and meeting with potential partners and clients for future ventures.
Together with talents Rachel Alejandro and Celeste Legaspi, I put up a production company called Culturtain Musicat Productions. In 2017, we made the leap to filmmaking with Ang Larawan, a musical film based on the renowned play A Portrait of the Artist as Filipino.
This 2020 was the year when Culturtain Musicat was going to shoot our next film, Song of the Fireflies, a story based on the rise of the famous Loboc Children's Choir of Bohol. I was set to fly back to Manila by early April to continue pre-production on our film. In short, we were ready to shoot Song of the Fireflies.
And then, COVID-19 happened.
" Sheltering in place in Massachusetts is such a huge contrast, schedule-wise. When I wake up, I do so carefully and slowly. I don't jump out of bed and rush to my first appointment. "
The flight I was supposed to take did not push through and I have yet to rebook my ticket. Home for me these days is not the two-story townhouse in Greenhills, San Juan, where I have been living (and also holding office) for the past so many years, but the charming house of my sister Loida in the picturesque suburbs of Massachusetts.
In Manila, my days are hectic; they are usually filled with business-related functions. I go out of the house in the morning and return around midnight. As part of being a talent manager/producer/marketing executive, I zoom from one meeting to another; I see and talk to so many different people in a day. The work is hectic and charged with pressure; yet after being in show business for decades, I know I have found my niche in this industry.
Sheltering in place in Massachusetts is such a huge contrast, schedule-wise. When I wake up, I do so carefully and slowly. I don't jump out of bed and rush to my first appointment. Instead, I gaze out the huge window to admire the view of magnificent trees. My place in Greenhills — although homey to me — does not have big windows; neither does it offer a lush natural spectacle that Massachusetts does.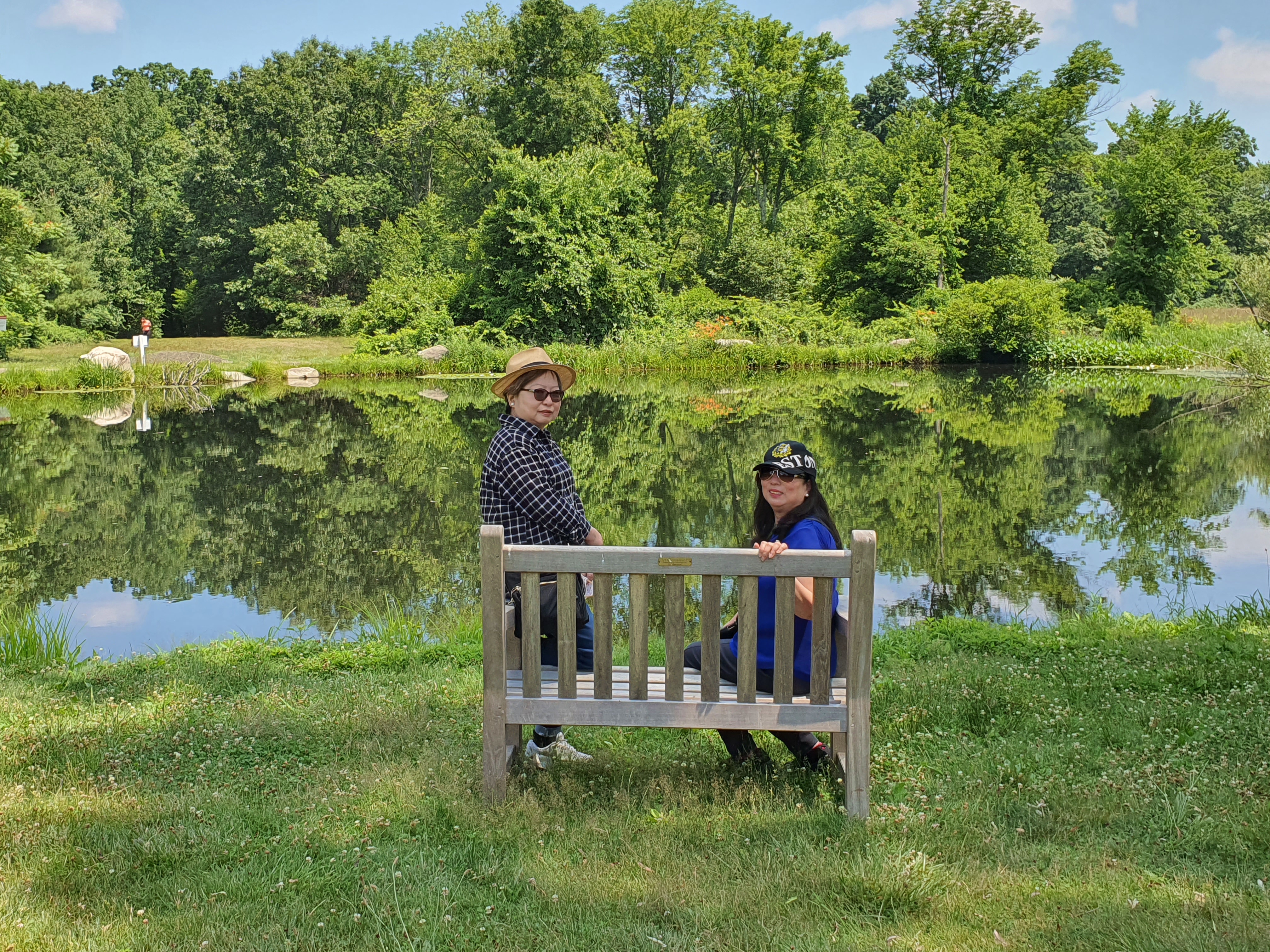 The only people I see at present are my sister Loida and her American husband Jon and their kids. Occasionally, I meet with my other siblings and their families, either in person or through Zoom.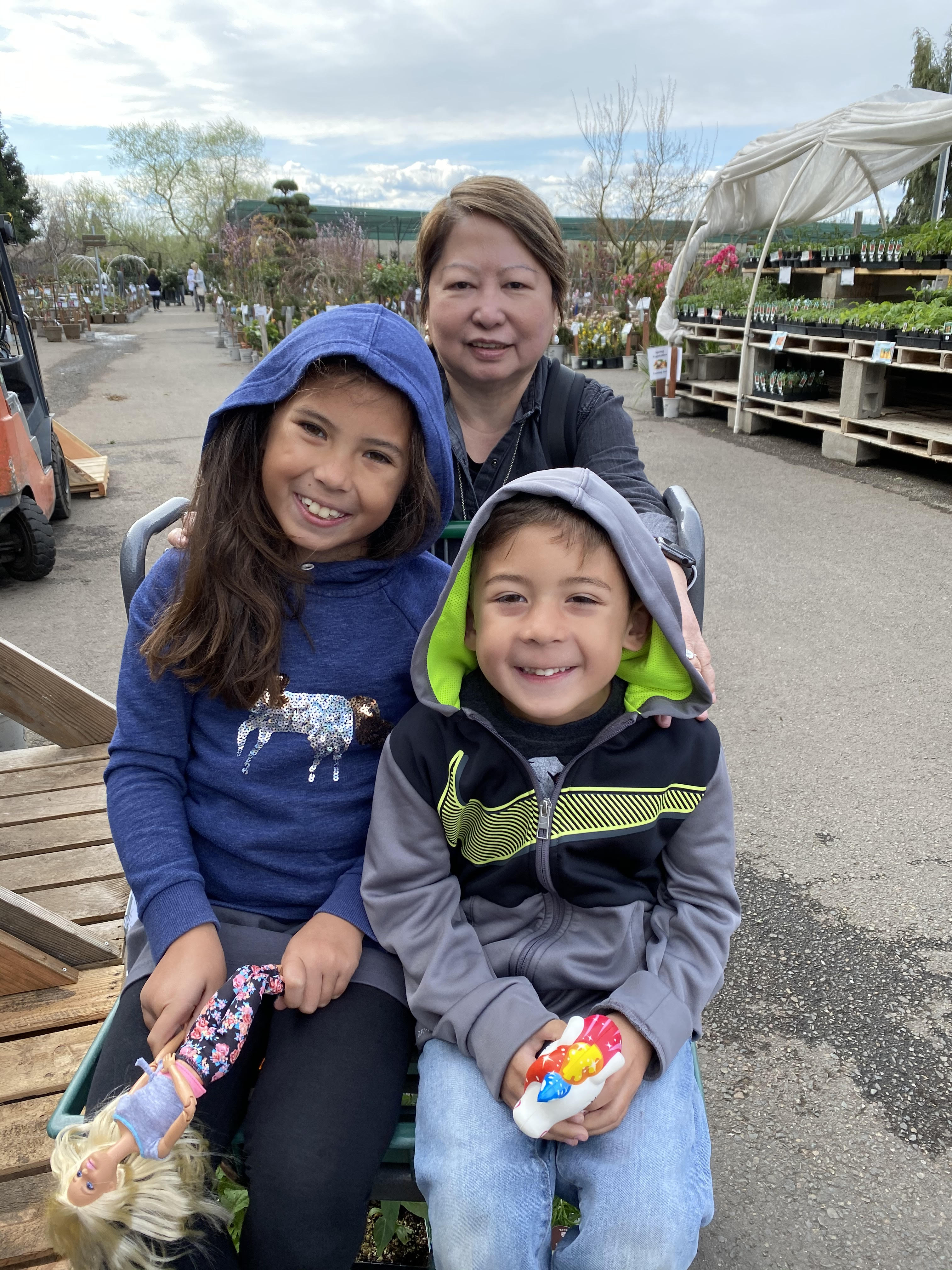 Without a doubt, the highlight of my day has become my hour-long daily walks with Jon and Loida around the neighborhood. This is our exercise and therapy. I purposely take a slower pace so that I fall behind them. I am never able to take a brisk walk because the trees are so beautiful. I have always loved looking at trees. This activity has become my antidote to the anxiety brought about by the pandemic.
For the first time ever, I was able to savor how the trees transform during the changing of the seasons. My stay here began in the winter when the trees did not have leaves. Now, it is summertime and the lush foliage is amazing. I have never really been able to witness this beforehand because I stay in Massachusetts for only a few weeks. So now, I try to capture the beauty of these simple joys by documenting my walks, taking photos of the trees, and sharing these images on my social media accounts.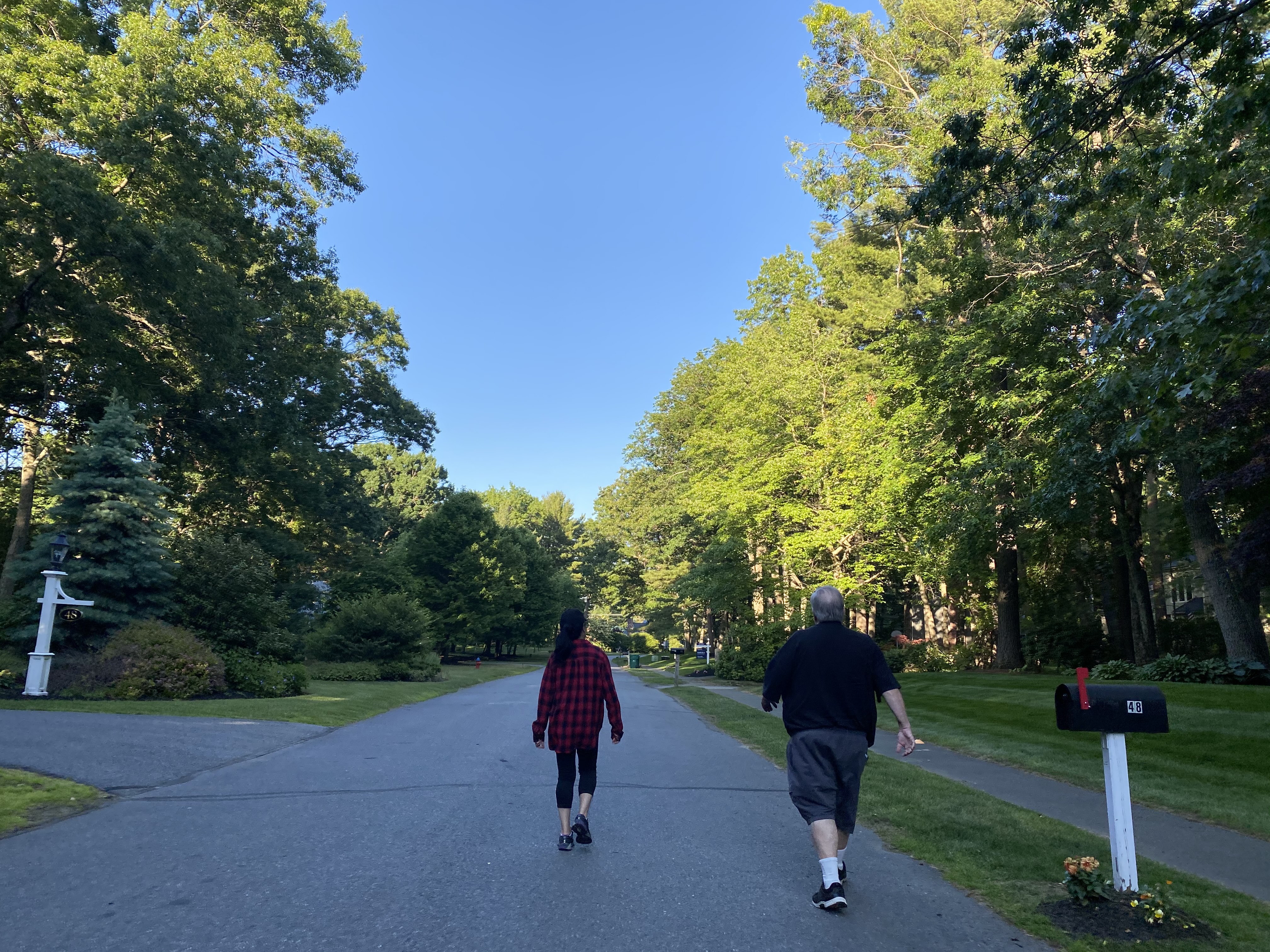 Taking a walk around my sister's lovely neighborhood makes me hopeful. Some days offer surprises like the time we encountered colorful chalk drawings made by kids whose ages must be eight or nine years old.
My friends on Facebook have been commenting that photos of my walks have been giving them good vibes. My inaanak sa kasal, Rachel's Spanish husband Carlos Santamaria, says he looks forward to these updates and misses them when he doesn't see the photos. "You can't disappoint your tree fans," he says good-naturedly.
I continue to work remotely from Massachusetts — albeit like my walks, at a slower pace. I have helped in a number of charity fundraising efforts for frontliners and the vulnerable sectors, through promotions, tapping artists to perform, and other logistical tasks. I still manage my talents and supervise my staff, trying to maintain a semblance of operations and still take care of them in the midst of these extremely extraordinary circumstances. We try to do what we can even without our live gigs and entertainment projects. Like what they say in the 'biz, "the show must go on."
One of the things that gives me energy right now is putting together the Original Pilipino Music (OPM) music archive with Celeste, writer and restoration advocate Tats Manahan, Moy Ortiz of The Company, and educator Lyca Benitez Brown.
How do I see my future travels? Like what I have been doing the past months, I will continue to walk and look at the trees. Not just literally but more so symbolically. I will continue to relish the simple joys — nature, good food, family, friendship, the arts — and continue to count my blessings. Let's all hope and pray. We have to stay positive even when things look glum. I cannot imagine how the future will be. But nothing will come from thinking of the worst scenarios. We just need to believe we will overcome whatever new realities we face.
Edited by Tanya T. Lara