Just four months ago, Robert "Taj" Curata had the best of both worlds — the world that was his "Daddy," designer Ito Curata, and the world that was his "Papa," retired Visa executive Robert Miller. They were his world, and he was theirs.
"Life was very simple before COVID-19 took my parents away from me. Every other night, my dads and I went out for dinner. Nothing fancy, sometimes we would just grab a bite at Taco Bell or Pancake House. And once in a while, we would go watch a movie together. "But unfortunately, I normally didn't spend a lot of time with my dad Ito since he worked most of the time," recalls Taj, who went to sleep on the night of March 25 a hopeful 13-year-old and woke up the next day with the burdens of a 30-year-old.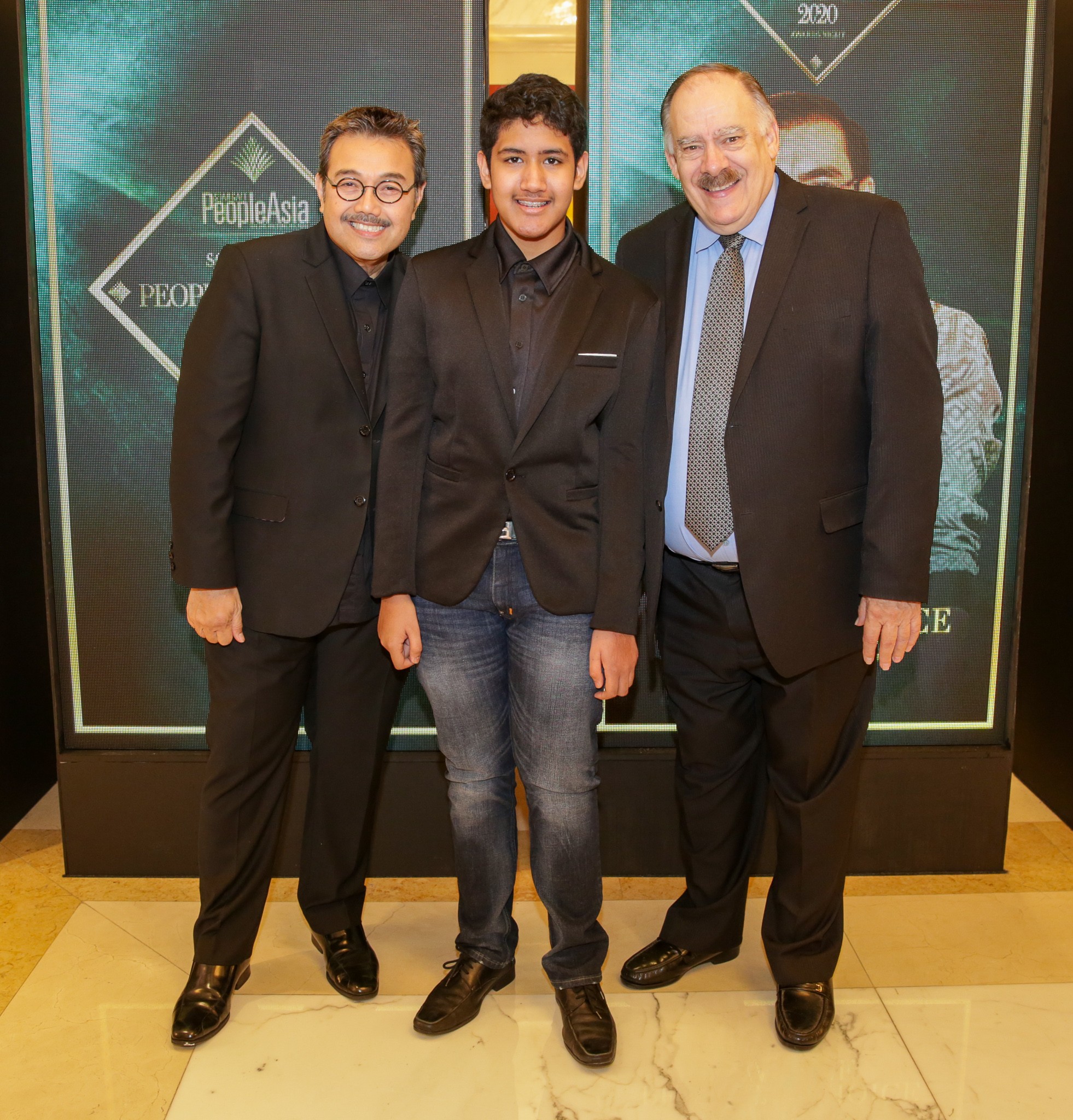 "On the morning of March 26, my uncle called me and said that my dad Ito was terminal. I absolutely refused to believe that. I just couldn't," recalls Taj.
But he still clung to the hope that his dad, whom he always wished he could spend more time with, "would come home and that all would become normal again."
Mid-March to early April saw a steep spike in the curve of COVID-19 cases in the country, prompting the government to put Metro Manila in its first lockdown ever in modern history. Thus was born the now-iconic three-letter byword "ECQ" (enhanced community quarantine).
It was also the time Ito, then Bob, passed away.
" Life was very simple before COVID-19 took my parents away from me. "
On March 26, Taj received another call from Ito's brother. His daddy had passed away. There were no goodbyes, not even by text.
Ironically, Ito, 60, was the one who drove Bob, his beloved partner for about three decades, to the hospital in mid-March.
"When my papa, Bob, was in the hospital, he told me and my dad that the doctor said it was most likely just pneumonia," says Taj, who, like most 13-year-olds, is back to school, though online, at the moment. He is said to excel both in Science and Art and loves Music and Physics.
"But Papa still advised me and my dad to also get admitted into the hospital because we all had the same symptoms. But my symptoms were much milder. Around four days after my papa was admitted, his doctor called and told me that he was put in the ICU since he had trouble breathing. And that's when I found out that he had COVID. I was in complete shock because just a couple of days before he was admitted, my papa was teasing me about him having the virus."
By this time, Ito was not by Taj's side to help cushion the bad news relayed by the doctor about Bob's condition. Unbeknownst to Taj, Ito, who had driven himself to the hospital a few days after he drove Bob there, was in a far worse condition than Bob.
"It was late at night when my dad left for the hospital. He said that he was going to pay the down payment for my papa. Much to my surprise the next morning, he wasn't in the house and his car wasn't outside on the driveway. So, I made the conclusion that he must have had himself admitted to the hospital."
Taj was actually relieved when he found out that Ito was already confined. "He was in very bad condition when he was in the house. He was always out of breath. So, I was happy that he could get the medical attention that he needed. But even with doctors and nurses by his side, COVID still took his life."
At the time, Taj, who only had his parents' loyal driver and cook physically by his side, "was very hopeful that my parents were going to get better and come home."
Ito did come home, but it was only his urn that Taj was able to hug. The teenager lovingly put the urn on a table in the foyer of the French manor-inspired home Bob and Ito built together in Ayala Alabang, after Bob's retirement from Visa in San Francisco. The couple had decided to make the Philippines their home after that.
Then Taj lit a candle for his daddy and prayed that his papa would come home feeling much better in the next couple of days. Because of the ECQ, he mourned the loss of his daddy, a popular fashion designer who made clothes for Hollywood actress Sharon Stone in her prime — alone. Then he wiped away his tears and waited for his papa to return.
But Bob's homecoming was to a place where he couldn't be with Taj — at least, not for now.
"I was very hopeful with my papa," continues Taj, who still lives with his loyal caregivers in his parents' house, under the watchful eye of his parents' closest friends. "The doctors said that papa was getting better. I was so relieved. But at around 3 a.m. on April 7, the doctor called me and told me that he, too, had passed."
With the help of friends, Bob's remains were cremated. When Bob went home, his urn was lovingly laid by Taj beside the urn of Ito. As a tribute to his parents, Taj put their photos side by side as well. And then he wiped away his tears…
" They are just in another world, watching over me. Knowing that gives me the strength to carry on with life. They would have wanted me to finish my education, and that's what I intend to do. I want to make them proud. "
Still hopeful
Taj gets by with financial assistance from his parents' friends. One of them tutors him. Another helps him do basic accounting to pay the bills. He has an uphill legal battle ahead to secure his future, even a roof over his head.
Still, Bob and Ito's son, whom they nicknamed "Taj" because he was a symbol of their love for each other, is hopeful about tomorrow.
"(My parents) are not gone forever. They are just in another world, watching over me. Knowing that gives me the strength to carry on with life. They would have wanted me to finish my education, and that's what I intend to do. I want to make them proud," says the young man.
Those who are able to speak and listen to Taj vouch that in his own way, he is a monument to the way his parents raised him. "Talk to Taj for one minute and you will be impressed at how mature, articulate, intelligent and refined this 13-year-old is. A boy with these qualities has the potential for a very bright future indeed," says one of his 23 godparents, Joanne Zapanta-Andrada.
One of his parents' closest friends lawyer Rene Puno remembers, "In all the time I would see the family together, Taj would listen eagerly to Bob's constant advice on everything. And Ito would shower Taj with compliments and reassurance, and make us know how proud he was of Taj's many achievements."
Joanne remembers the day Taj was christened.
"Oh, how Ito and Bob loved that baby! I recall Ito being extra chatty that day, he was talking about finally being a parent and Bob was over the moon with joy. Throughout the years they showered this boy with love," Joanne says.
Are they worried about the boy's future, about the future COVID snatched from him — his parents' love and guidance, and his financial security?
Rene isn't one to lie, saying, "Certainly! He needs a sense of security, knowing he will not be left out in the streets to fend for himself."
But Rene quickly adds that Ito and Bob's friends "won't allow that to happen, will we? Taj is not really alone. All of us, Bob and Ito's many friends, intend to look after his concerns while he needs us."
Taj doesn't feel completely bereft, either, and whispers his thoughts, hopes and dreams to his parents every night, "when I pray to God." "After that, I pray the Angel of God prayer for guidance," he shares.
COVID-19 may have snatched the earthly presence of his parents from him, but Taj Curata isn't letting the pandemic seize their hopes and dreams for him as well. After all, he knows he will see them again. Someday.
Photo by Geremy Pintolo
Edited by Büm Tenorio Jr.